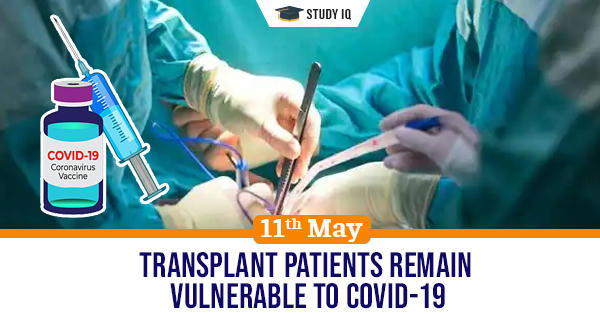 Transplant patients remain vulnerable to Covid-19
Date: 11 May 2021
Tags: Miscellaneous
Issue
A study has found out that people with organ transplant are not safe even after two doses of vaccine and they should not discard masks, physical distancing and similar measures.
Background
People with immune-suppressants are one of the most vulnerable groups as their immune system is weakened due to transplant complexities.
Details
This study follows a similar study which had concluded that only 17 percent of people with transplant produced enough antibodies in a single dose to tackle the virus.

To prevent rejection of organs, people with hard transplants such as heart, lung, liver and kidney must take drugs to suppress their immune systems.

Such drugs will hamper an individual's natural ability to produce antibodies against foreign antigens including virus.
The study
The study included about 658 patients, who were evaluated for their immune response when vaccinated by second dose of Moderna or Pfizer-BioNTech vaccine.

About 98 out of the 658 patients were able to produce enough antibodies to tackle SARS-CoV-2 after 21 days. This was only about 15 percent.

After 29 days, the number of participants with visible antibody response rose to 357, which is about 54 percent.

Among the participants, the most likely candidates to produce antibodies were those with young age. They did not take immune-suppressants and received Moderna vaccine.