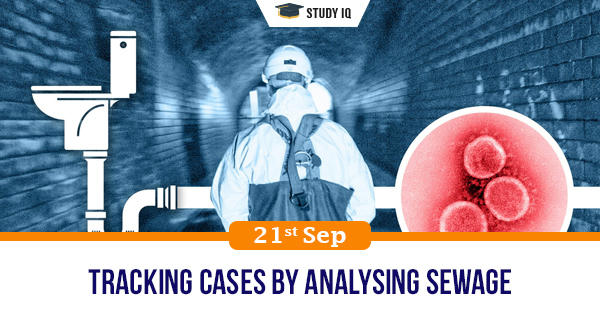 Tracking cases by analysing sewage
Date: 21 September 2020
Tags: Miscellaneous
Issue
Analysis of sewage sludge for a period of 10 weeks during the COVID-19 outbreak period once again demonstrates the utility of viral RNA monitoring of municipal wastewater for SARS-CoV-2 infection.
Background
The sewage samples collected and analysed helped monitor about 200,000 residents in the metropolitan area.
Details
Analysis of the sludge samples allowed researchers to track the rise and fall of positive cases and hospital admissions days before they were officially known or recorded.

Based on the RNA concentrations in the sludge, the researchers were able to know the swing in cases up to two days before samples could be collected.

While the researchers collected and analysed primary sewage sludge that form when raw wastewater discharges into treatment facilities, in places that lack primary wastewater treatment, monitoring of raw wastewater streams would be necessary.

In communities facing a delay between specimen collection and the reporting of test results, immediate wastewater results can provide considerable advance notice of infection dynamics.

The results come in the wake of uncertainty and poor understanding of the utility of wastewater SARS-CoV-2 concentrations for tracking the progression of COVID-19 infections.

This despite the evidence that SARS-CoV-2 RNA is present in the stools of COVID-19 patients and hence in sewage, and of increased RNA concentrations in sewage being correlated with increased number of cases reported days later.

Sludge results were not a leading indicator compared to positive test results or percentage of positive tests by date of specimen collection.

In communities where test reporting is delayed, sludge results, if analysed and reported on the same day as sampling, can provide substantial advance notice of infection dynamics.

Primary sludge handling approaches can be different in treatment plants and this could affect the levels of detectable virus.