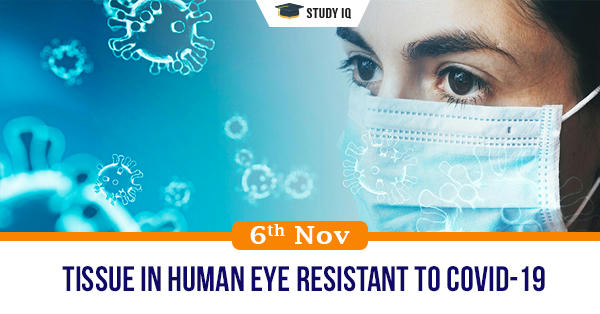 Tissue in human eye resistant to Covid-19
Date: 06 November 2020
Tags: Miscellaneous
Issue
Researchers have found that the cornea, which covers the iris and pupil – appears to be resistant to coronavirus infection in experiment.
Background
The novel coronavirus, SARS-CoV-2, mainly spreads through droplet transmission when a person coughs, talks or sneezes. But there were doubts regarding transmission through eyes.
Details
SARS-CoV-2 RNA was found in the tears and conjunctival sac of some patients. Pink eye or mild conjunctivitis has also been seen in some patients with COVID-19.

Experts indicate that the presence of RNA does not mean that the virus was actively replicating inside the conjunctiva; it may have just been the person shedding the virus from the conjunctiva.

In experiments using corneal tissue from 25 human donors and also mice corneas, the researchers exposed the eye tissue to three separate viruses: SARS-CoV-2, Zika virus, and herpes simplex virus 1.

In the human cornea explants, the experiment showed that herpes and Zika virus were able to replicate in the tissue but tests showed no sign of SARS-CoV-2 replication.

As for how the human cornea and conjunctiva might be capable of resisting SARS-CoV-2, the team isn't entirely sure.

A potential molecular inhibitor of viruses in the eye – called interferon lambda – was able to limit virus growth in the human cornea for HSV-1 and Zika virus, but blocking the protein didn't seem to boost SARS-CoV-2's ability to replicate.

Health professionals should use protective eyewear until there is enough proof to indicate that the virus cannot enter the body through eyes.