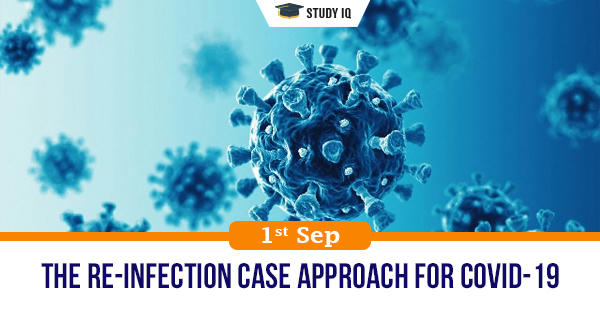 The re-infection case approach for Covid-19
Date: 01 September 2020
Tags: Miscellaneous
Issue
The Center for Disease Control (CDC) in the United States had said that, no case of re-infection with the novel coronavirus had been confirmed in any individual.
Background
The CDC did acknowledge that there had been instances in which people had tested positive again after having recovered from the disease once.
Details
Recovered patients can have low levels of virus for up to three months after the infection, and though it is no longer enough to make the person sick or transmit the disease to others, it can get detected in diagnostic tests.

Researchers in Hong Kong recently reported the first known case of re-infection. A 33-year-old Chinese was found carrying the disease four-and-a-half months after recovering from the first infection.

The patient had travelled to Spain in between. Just a day later, one similar case of re-infection was reported from Belgium and another from the Netherlands.

These first cases of re-infection show that the immunity developed after contracting the disease once may not be long-lasting, and the virus could continue to circulate in the populations.

It has also triggered concerns about the effectiveness of vaccines being developed for the infection.

The genome sequence analysis shows that the person had been infected with two different variants of the novel coronavirus.

That could possibly mean that he had been re-infected during his travel to Spain. He had tested positive while being screened at the airport on his return.

In the case of the re-infection in the US too, researchers found that the virus associated with each instance of the patient's infection represented genetically different strains.

The fact that re-infection has been confirmed does not come as a surprise. In fact, many believed that re-infection might have been happening earlier as well. It was just that it was not getting detected.

But as in the case of natural immunity, the longevity of protection offered by vaccine remains an open question. The researchers do point out that vaccines may not be able to provide lifelong protection against Covid-19 disease.

They say that there is now a case for testing the vaccines being developed on recovered patients as well.