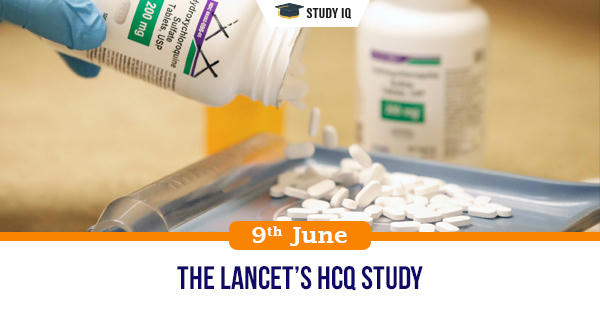 The Lancet's HCQ study
Date: 09 June 2020
Tags: Miscellaneous
Issue
The Lancet published a retraction from three of four authors of a study that had said neither chloroquine nor hydroxychloroquine (HCQ) with antibiotics hold any significant promise as a treatment for Covid-19.
Background
The World Health Organization (WHO), which had suspended enrolment for the HCQ arm of the Solidarity Trial following the original study, has reinstated it following the retraction.
Details
Hydroxychloroquine and chloroquine have received a lot of attention and have been used very widely to treat COVID patients despite the absence of any good evidence.

Solidarity is an international clinical trial on possible Covid-19 treatments, including HCQ, which is an anti-malarial drug. India has continued to repose its faith in HCQ, while US President Donald Trump claims to use it himself.

In the study on chloroquine and HCQ with antibiotics, the authors had written: "Each of these drug regimens was associated with decreased in-hospital survival and an increased frequency of ventricular arrhythmias when used for the treatment of COVID-19".

The Lancet said, 'They were unable to complete an independent audit of the data underpinning their analysis. As a result, they have concluded that they 'can no longer vouch for the veracity of the primary data sources'.

Surgisphere, the source of data for the study, has stood by the integrity of its data even while refusing to give access to it to peer reviewers citing client confidentiality agreements.

There has been another retracted study (not related to HCQ), again with data from Surgisphere. The New England Journal of Medicine has printed a retraction note for a study it published last month.

The retractions have exposed gaps in the peer-review process. It is usually an unpaid job for researchers who are sparing time for work that carries no credit. Checks and balances that can call out fudged data are very few.

Scientific publications depend on rigorous, unbiased, and knowledgeable peer reviews by experts supplemented by the journal's editorial team. The consequences can be harmful if the errors are uncorrected.

While the WHO has reinstated the HCQ arm of its trial, India has never wavered from its faith in the drug as a treatment and a prophylactic for Covid-19.