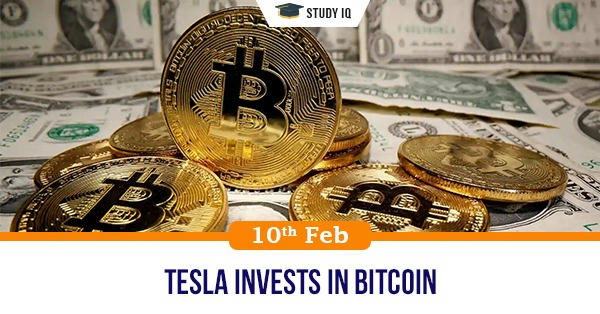 Tesla invests in bitcoin
Date: 10 February 2021
Tags: Miscellaneous
Issue
Electric car maker Tesla has announced that it invested $1.5 billion in bitcoin, making it the biggest investment by a mainstream corporation into the most popular cryptocurrency.
Background
The company also plans to start accepting the digital currency as a payment option for its products.
Details
The company pointed out that it updated its investment policy to be more flexible in further diversifying and maximising returns on its idle cash.

As a part of this plan, it said it would invest in certain alternative reserve assets including digital assets, gold bullion, gold exchange-traded funds, and other assets.

Crypto traders and investors are seeing the investment as a huge step in favour of institutional adoption of bitcoin.

While Tesla's may be the biggest investment in bitcoin by a consumer facing company, it is noteworthy that it does not hold the largest quantity of bitcoin for a single entity's corporate treasury.
Investment in bitcoin
The first advocates of bitcoin did not intend for it to be used as an asset, but with the mushrooming of exchanges where it could be easily purchased and sold.

Market participants say that the huge volatility in the price of bitcoin without any major fundamental reason is a factor that retail investors should be cautious about.
Risks associated
The prices of digital assets have been in the past and may continue to be highly volatile, including as a result of various associated risks and uncertainties.

Their reliance on technology for their creation, existence, and transactional validation and their decentralization may subject their integrity to the threat of malicious attacks.