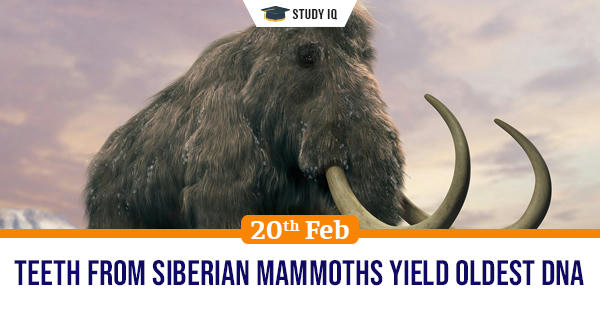 Teeth from Siberian mammoths yield oldest DNA
Date: 20 February 2021
Tags: Miscellaneous
Issue
Scientists have recovered the oldest DNA from the molars of mammoths that roamed north-eastern Siberia up to 1.2 million years ago.
Background
Mammoths were elephant cousins that were among the large mammals that dominated Ice Age landscapes.
Details
While the remains were discovered starting in the 1970s, new scientific methods were needed to extract the DNA.

The oldest of the three, discovered near the Krestovka river, was approximately 1.2 million years old.

Another, from near the Adycha river, was approximately 1 to 1.2 million years old. The third, from near the Chukochya river, was roughly 700,000 years old.

The researchers gained insights into mammoth evolution and migration by comparing the DNA to that of mammoths that lived more recently. The last mammoths disappeared roughly 4,000 years ago.

The oldest of the three specimens, the Krestovka mammoth, belonged to a previously unknown genetic lineage that more than 2 million years ago diverged from the lineage that led to the well-known woolly mammoth.

Members of the Krestovka lineage were the first mammoths to migrate from Siberia into North America over a now-disappeared land bridge about 1.5 million years ago.
Importance of DNA study
Most knowledge about prehistoric creatures comes from studying skeletal fossils, but there is a limit to what these can tell about an organism, particularly relating to genetic relationships and traits.

Ancient DNA can help fill in the blanks but is highly perishable. Sophisticated new research techniques are enabling scientists to recover ever-older DNA.

DNA analyses showed that genetic variants associated with frigid climates such as hair growth, thermo regulation, fat deposits, cold tolerance, and circadian rhythms were present long before the origin of the woolly mammoth.