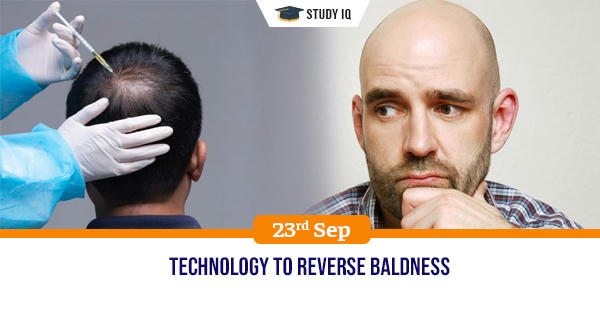 Technology to reverse baldness
Date: 23 September 2019
Tags: Miscellaneous
Issue
A new non invasive, low-cost hair-growth-stimulating technology tested successfully on mice has shown signs of reversing baldness, which increasingly affects human males.
Background
Baldness is a major cause of concern for humans especially males. About 2% of males suffer from baldness and related condition in some stage of their lives. The study thus becomes important.
Details
Based on devices that gather energy from a body's day-to-day motion, the hair-growth technology stimulates the skin with gentle, low-frequency electric pulses, which coax dormant follicles to reactivate hair production.

The devices don't cause hair follicles to sprout anew in smooth skin. Instead they reactivate hair-producing structures that have gone dormant.

The technology can be used as an intervention for people in the early stages of pattern baldness, but it would not work in case someone who has been bald for several years.

The main advantage of this technology is that it does not require bulky equipments. It instead uses body energy to generate electric pulses that simulate hair follicles to grow.
Baldness
Baldness is hair loss, or absence of hair. It's also called alopecia. Baldness is usually most noticeable on the scalp, but it can happen anywhere on the body where hair grows. The cause of male-pattern hair loss is a combination of genetics and male hormones.