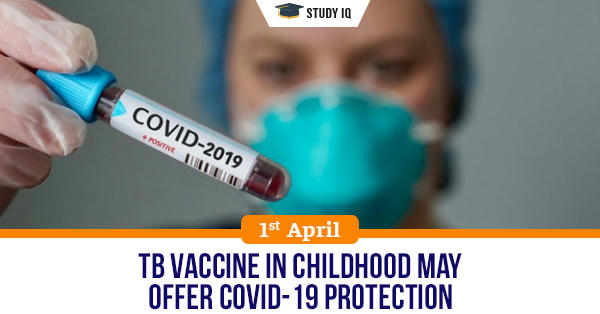 TB vaccine in childhood may offer COVID-19 protection
Date: 01 April 2020
Tags: Miscellaneous
Issue
The Bacillus Calmette-Guérin (BCG) vaccine given to newborns and children to prevent childhood tuberculosis appears to offer protection against coronavirus disease (Covid-19), according to US researchers.
Background
India's universal immunisation programme, under which the BCG vaccine is given, went up to the current figure of 97%, according to official data, up from 92% in 2015-16. It is manufactured in India, and costs less than RS 100 per vial in the private sector.
Details
The new study found Covid-19 cases and deaths are higher in countries that do not have or have discontinued universal BCG vaccination of children, such as the US, Italy, Spain and France, compared to countries with universal and long-standing immunisation policies, such as India and China.

Covid-19 cases and deaths in the United States, Italy and Spain have outpaced China, which was the epicentre of the outbreak that was first detected in Wuhan city in early December.

BCG vaccination significantly reduced deaths from Covid-19, with the strongest reductions in countries that established a BCG vaccination policy earlier.

The study found a direct correlation between how early the policy was established and the elderly population that would be protected.

Countries that have a late start of universal BCG policy, such as Iran in 1984, also had high mortality, consistent with the idea that BCG protects the vaccinated elderly population. They also found that BCG vaccination also reduced the number of reported Covid-19 cases in a country.

India started BCG vaccination of children in 1949, and currently 97% of 26 million children born in India receive the BCG vaccine free.