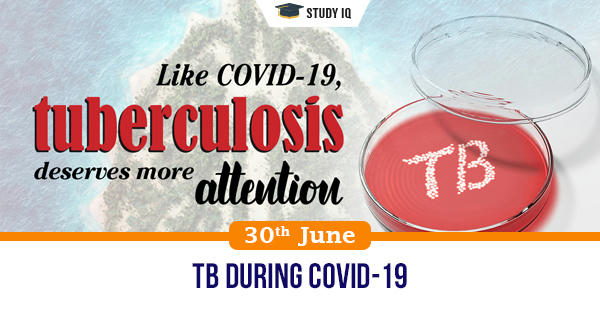 TB during COVID-19
Date: 30 June 2020
Tags: Miscellaneous
Issue
India has the highest burden of tuberculosis (TB) in the world. Even as the government was pushing to end TB by 2025, the COVID-19 pandemic has caused a massive disruption in TB services.
Background
TB case notifications across India have dropped by over 50% since March, with an estimated 3,00,000 missed case notifications. This is worrisome, since undiagnosed TB can worsen patient outcomes and increase transmission in the community.
Details
As the lockdown ends, we will see a big surge in people seeking care with TB and COVID-19 symptoms. The public sector is still dealing with the pandemic, while the private sector is not functioning at normal capacity or is reluctant to manage people with fever and cough.

To find the missed TB patients, we will need to find ways to rapidly resume public TB services, integrate TB and Covid-19 testing and be creative about engaging the private health sector to augment public TB services.

Since fever and cough are symptoms of both TB and COVID-19, simultaneous screening and testing can be encouraged.

The first is the digital chest x-ray (CXR), which could be deployed along with artificial intelligence (AI) based tools for both TB and COVID-19.

AI-based algorithms are now available that obviate the need for trained radiologists to read the x-rays. If a CXR is suggestive for TB on the AI algorithm, then a confirmatory test such as GeneXpert can be done to confirm TB and also detect drug-resistance.

One such AI-enabled screening tool is called qXR, developed by Qure.ai, an Indian company. Several studies show accuracy that is comparable or better than human radiologists.
National TB Elimination Programme
The National Tuberculosis Elimination Program (NTEP) is the Public Health initiative of the Government of India that organizes its anti-Tuberculosis efforts.
It functions as a flagship component of the National Health Mission (NHM) and provides technical and managerial leadership to anti-tuberculosis activities in the country.