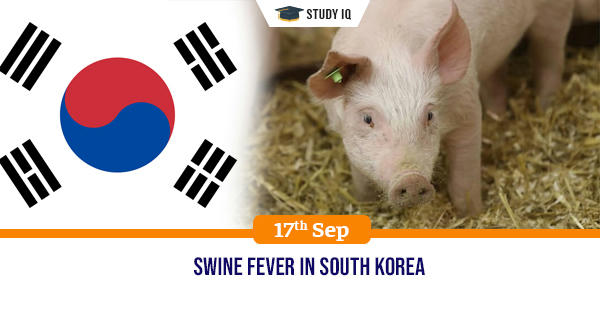 Swine fever in South Korea
Date: 17 September 2019
Tags: Miscellaneous
Issue
South Korea has reported its first cases of African swine fever, becoming the latest country hit by the disease that has killed pigs worldwide, pushing up pork prices.
Background
Pigs were found dead at a farm in Paju, a city near the inter-Korean border and were confirmed to have been infected with the virus. The virus has been prevalent in African countries on a large scale.
Details
The virus is not harmful to humans but causes haemorrhagic fever in pigs that is almost always fatal.

There is no antidote or vaccine and the only known way to prevent the disease from spreading is a mass slaughter of affected livestock.
African Swine Fever
African swine fever (ASF) is a severe viral disease affecting domestic and wild pigs.

This transboundary animal disease (TAD) can be spread by live or dead pigs, domestic or wild, and pork products.

Transmission can also occur via contaminated feed and non-living objects such as shoes, clothes, vehicles, knives, equipment etc., due to the high environmental resistance of ASF virus.

There is no approved vaccine against ASF (unlike classical swine fever ,which is caused by a different virus)

Outbreaks have usually been reported in Africa and parts of Europe, South America, and the Caribbean. More recently the disease has been reported in multiple countries across Africa, Asia and Europe, in both domestic and wild pigs.