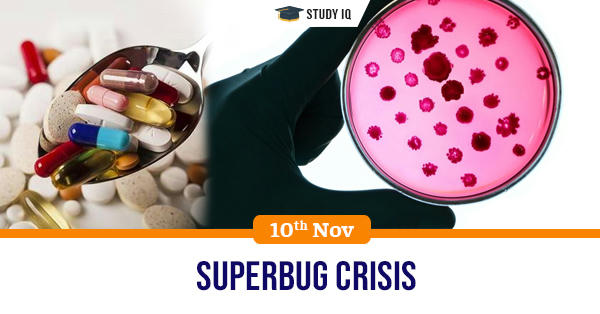 Superbug crisis
Date: 10 November 2019
Tags: Miscellaneous
Issue
Antimicrobial resistance (AMR) is considered one of the most significant challenges the world faces today. This makes most of the anti-biotics ineffective against bacterial infections.
Background
Globally, thousands succumb to untreatable superbug infections on a daily basis. Irrational antibiotic usage is a major reason behind this.
Details
Excessive usage of antibiotics creates resistance, and doctors are notorious for this. But over two-thirds of the antibiotics manufactured by the pharmaceutical industry are used as growth promoters for poultry and cattle. Globally 73% of all antimicrobials sold are used in animals raised for food.

Antibiotic stewardship is considered to be the most important intervention to tackle super bug crisis.

A remarkable, though unachievable, 100% success of antibiotic stewardship among doctors to rationalise antibiotic use can correct only one-tenth of the global antibiotic misuse.

Over the last 10 years, antibiotic stewardship efforts by various medical societies in our country and other stakeholders have significantly raised awareness of the super bug problem among the medical community.

Rational antibiotic usage for choosing the right drug at the right dose at the right time is needed to correct the superbug challenge.
Tackling superbug crisis
Improving cleanliness in hospitals and sanitation in the community is much more important than antibiotic stewardship.

There is no conclusive evidence to support antibiotic stewardship as an effective measure to reduce the Gram-negative superbug bacteria, such as E. coli and Klebsiella, the most prevalent group in South Asia.
Superbugs
"Superbugs" is a term used to describe strains of bacteria that are resistant to the majority of antibiotics commonly used today.
Threats
As bacteria becomes resistant to antibiotics, our medications become less and less effective. Without them, ordinary infections such as strep throat will be considered potentially life-threatening.

Diseases that are currently rare in the developed world, such as tuberculosis, could return at epidemic proportions.

Superbugs are especially threatening to populations like the elderly or immunodeficient who are more susceptible to bacterial infections.
Anti-biotic stewardship
Anti-biotic stewardship is the systematic effort to educate and persuade prescribers of antimicrobials to follow evidence-based prescribing, in order to stem antibiotic overuse, and thus antimicrobial resistance