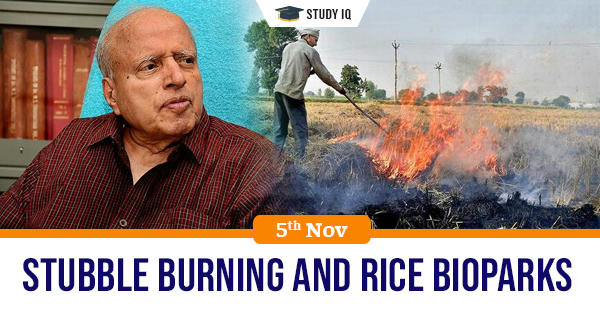 Stubble burning and rice bioparks
Date: 05 November 2019
Tags: Miscellaneous
Issue
Eminent agricultural scientist M.S. Swaminathan suggested that the Delhi, Haryana and Uttar Pradesh governments could set up 'Rice BioParks', where farmers could convert stubble into income and employment.
Background
As Delhi and its neighbouring areas continue to be severely hit by pollution due to stubble burning in neighbouring States. This has caused serious levels of air deterioration, leading to health emergencies.
Details
Mr. Swaminathan noted that the air pollution in Delhi has become a matter of public health concern nationally and internationally and farmers were being blamed by many for burning stubble and thereby causing atmospheric pollution.

He suggested that we should adopt a do-ecology approach with farmers to convert rice stubble into income rather than making them agents of eco-disaster.

Recently, the Chennai-based M.S. Swaminathan Research Foundation (MSSRF) established a Rice BioPark at Nay Pyi Taw, Myanmar, funded by the Union Ministry of External Affairs.

The Rice Biopark showed how stubble can be utilized to make products including paper, cardboard and animal feed.
Reasons for stubble burning
Farmers are ill-equipped to deal with waste because they cannot afford the new technologythat is available to handle the waste material.

Cheaper in comparison to removing mechanically or manually.

Kills weeds, pests like slugs and can reduce nitrogen tie-up.
Solutions
Remove and convert the residues into enriched organic manure through composting.

Mixing the crop residue in soil can help retain the moisture as well as increase the productivity.

Use the crop residues to develop alternative product, which is sustainable as well as affordable.