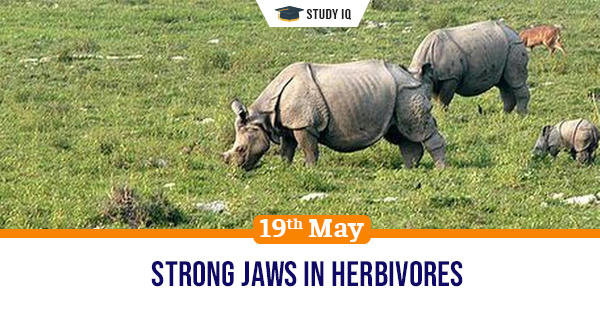 Strong jaws in herbivores
Date: 19 May 2021
Tags: Miscellaneous
Issue
A recent study has found that plant eating animals with stronger jaws were the only ones to survive changing climatic conditions.
Background
Due to climate change, the plant diversity decreased. Only the drier and difficult to eat plants were present, which created challenges for herbivores.
Details
A new ecosystem began developing during the Triassic times after the mass extinction during the Permian era.

The new species that managed to survive the harsh times developed diverse specialisation. This was due to the ability of survivors to adopt new diets.

The environmental shocks such as acid rain and global warming were occurring regularly, that forced the survivors to adjust to long years of hardship.

Softer plant varieties became less common and only dry-adapted varieties managed to survive. Herbivores had not much of an option.

New group of animals diversified into herbivores and pushed their potential competitors aside and dominate.
The study
Researchers were able to classify the organisms into various categories based on their plant diet, their teeth and power of jaws.

They studied jaws of fossils to determine the advantages they had due to the pressure applied, mechanical advantage and their bite force.

This study was able to determine why some group of herbivores managed to survive while others fizzled out. The role of jaws in their survival was paramount.