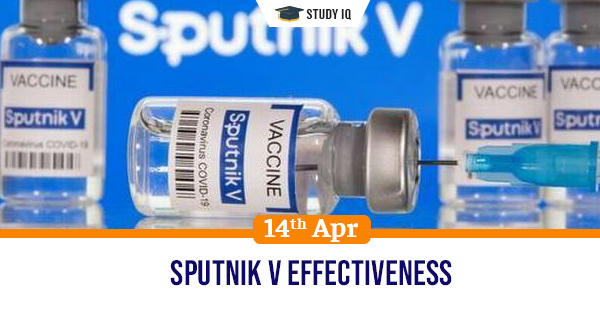 Sputnik V effectiveness
Date: 14 April 2021
Tags: Miscellaneous
Issue
Sputnik V has been given for emergency use authorisation by the Drugs Controller General of India. It will be the third vaccine to get approval.
Background
The Sputnik V vaccine is developed by the Gamaleya National Research Institute of Epidemiology and Microbiology in Moscow.
Details
The vaccine makes use of two types of virus causing common cold in humans. These adenovirus are weakened to prevent them from causing serious disease.

It will also deliver the code for making coronavirus spike protein in body. When the real virus is encountered, the body is able to provide anti-body response.

The vaccine uses two different vectors in two different vaccine shots. This will ensure that immunity remains for a longer duration in comparison of using the same vector in both shots.

Sputnik V is stored in-18°C in its liquid form. The two vaccine shots have to be given 21 days apart. It costs less than $10 for each shot.
Efficacy
The vaccine had come under criticism from scientific community after it was launched without complete studies.

The Phase 3 studies have indicated that its efficacy is about 91%. Dr Reddy's has conducted a bridging study in India.