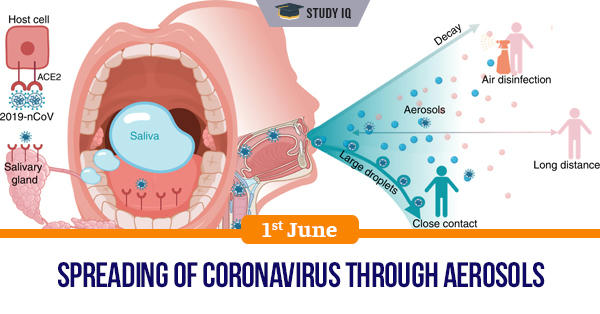 Spreading of Coronavirus through aerosols
Date: 01 June 2020
Tags: Miscellaneous
Issue
A research work published by researchers seems to suggests that a large proportion of the spread of coronavirus disease 2019 (COVID-19) appears to be occurring through airborne transmission of aerosols produced by asymptomatic individuals during breathing and speaking.
Background
Direct contact with an infected person, droplet transmission and contact with contaminated surfaces are some of the most common routes of transmission suggested for novel coronavirus.
Details
In the case of SARS-CoV-2, it is said that aerosols can accumulate, remain infectious in indoor air for hours, and be easily inhaled deep into the lungs. Yet, there has not been any study to confirm this.

Research suggested that SARS-CoV-2 remained viable in aerosols for as long as three hours, though with time there was a reduction in the amount of infectious virus.

They studied droplet production when a person coughs and speaks and also measured the droplet size distribution, travel distance and velocity, and the airborne time in relation to the level of air ventilation.

They used a laser to determine the droplet sizes in a single cough and during speech. When a healthy volunteer coughed, they found both large droplets and small droplets being produced. But smaller droplets were more prevalent than the larger ones. During speech, the smaller droplets were the only ones produced.

They then used another laser system to track droplets for speed and trajectory when a person coughed. Larger droplets did not travel long and fell to the ground in about one second. Based on this information, they estimate that smaller droplets will remain in the air for nine minutes before settling on the ground.

The team note that while larger droplets settle faster than they evaporate, the smaller ones (aerosols), which are less than five microns, evaporate faster than they settle. As a result, they are buoyant and can get carried away by air to longer distances.

Further studies are needed to determine whether it is possible to detect COVID-19 virus in air samples from patient rooms where no procedures or support treatments that generate aerosols are ongoing.