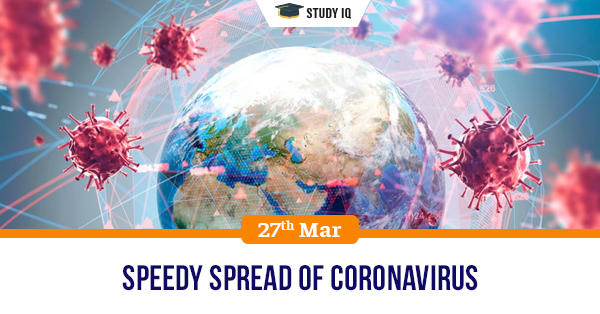 Speedy spread of Coronavirus
Date: 27 March 2020
Tags: Miscellaneous
Issue
A researcher from Tamil Nadu has highlighted various information on Coronavirus, including its speedy spread compared to other viruses.
Details
Synthesising of RNAs happened in most organisms through an enzyme called DNA-directed RNA polymerase, but it happened in coronaviruses (similar to few other viruses) through RNA-dependent RNA polymerase since they are single-stranded RNA viruses that lacked DNAs. This means Coronavirus can stay alive for more time than other forms.

The speed at which SARS-CoV-2 is spreading, in comparison to the strains that caused SARS and MERS, is shocking.

One of the reasons for fast spread was the presence of the spike protein in the virus and its affinity to the ACE2 receptors in human cells.

Since there is a strong binding with the ACE2 receptors, the virus is able to infect and multiply even with a small number of them entering the human body.

Measures along with the research happening at a breathtaking speed about vaccine and antiviral medicines for COVID-19 will help overcome this pandemic in the near future.

Rapid testing kits, being developed by many companies including at least one in India, which can give instant results and thereby allowing the possibility of testing more people, can also be a game changer on how we tackle this disease.