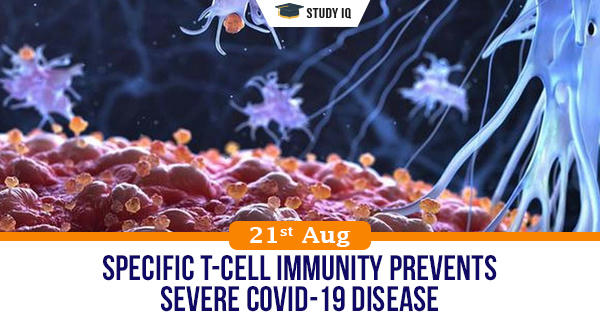 Specific T-cell immunity prevents severe Covid-19 disease
Date: 21 August 2020
Tags: Miscellaneous
Issue
Natural exposure or infection with the novel coronavirus may prevent recurrent episodes of severe COVID-19 in patients, according to a new study.
Background
This is because, once infected with SARS-CoV-2, the immune system elicits robust, broad, and highly functional memory T cell responses.
Details
The study found SARS-CoV-2-specific T cells even in family members who have been exposed to the virus but have tested negative on antibody blood tests.

SARS-CoV-2-specific T cells were also seen in convalescent individuals with a history of asymptomatic infection and mild COVID-19 disease.

All categories of people who recovered from moderate or severe COVID-19 disease, or in the convalescent phase after mild or severe disease or exposed family members or healthy people, exhibited robust memory T cell responses months after infection, even in the absence of detectable circulating antibodies specific for SARS-CoV-2.

They were able to detect similar memory T cell responses directed against the internal and surface proteins (membrane and/or spike) of the virus in some people in whom SARS-CoV-2-specific antibodies could not be detected.

This indicates a previously unanticipated degree of population-level immunity against COVID-19. This implies that seroprevalence as an indicator may underestimate the extent of immunity in the population.

The phenotype of the memory T cells during the acute phase of infection was different from the convalescent phase SARS-CoV-2-specific T cells, which were polyfunctional and displayed a stem-like memory.

While many have been focusing on induction of neutralising antibodies, antibodies may not be detectable in those who have had mild or asymptomatic infection.

The SARS-CoV-2-specific T cells also acquired an early differentiated memory phenotype in the convalescent phase, which gives the T cells stem-like properties characterised by extensive proliferation and polyfunctionality.

Even as antibodies wane with time, robust T cell memory formed after SARS-CoV-2 infection suggests that potent adaptive immunity is maintained to provide protection against severe re-infection.