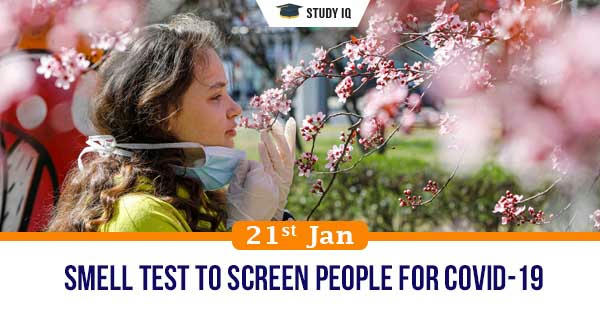 Smell test to screen people for Covid-19
Date: 21 January 2021
Tags: Miscellaneous
Issue
Some scientists think that a quick test consisting of little more than a stinky strip of paper can be used to detect Covid-19 in people.
Background
Loss of smell is a characteristic feature of Covid-19 patients and can be used to detect cases of the disease.
Details
The test does not look for the virus itself, nor can it diagnose disease. Rather, it screens for one of Covid-19's trademark signs: the loss of the sense of smell.

Many researchers have come to recognize the symptom, which is also known as anosmia, as one of the best indicators of an ongoing coronavirus infection, capable of identifying even people who don't otherwise feel sick.

A smell test cannot flag people who contract the coronavirus and never develop any symptoms at all.

But a mathematical model showed that sniff-based tests, if administered sufficiently widely and frequently, might detect enough cases to substantially drive transmission down.

Although some smell tests are already in use in clinical and research settings, the products tend to be expensive and laborious to use and are not widely available.

Some experts have been doubtful that smell tests could be distributed widely enough, or made sufficiently cheat-proof, to reduce the spread of infection.
Benefits of smell test
Studies have found that about 50% to 90% of people who test positive for the coronavirus experience some degree of measurable smell loss, a result of the virus wreaking havoc when it invades cells in the airway.

A reliable smell test offers many potential benefits. It could catch far more cases than fever checks, which have largely flopped as screening tools for COVID-19.

In comparison, only a minority of people with COVID-19 end up spiking a temperature. Fevers also tend to be fleeting, while anosmia can linger for many days.

However, smell tests would not be free of the problems associated with other types of tests, such as poor compliance or a refusal to isolate.