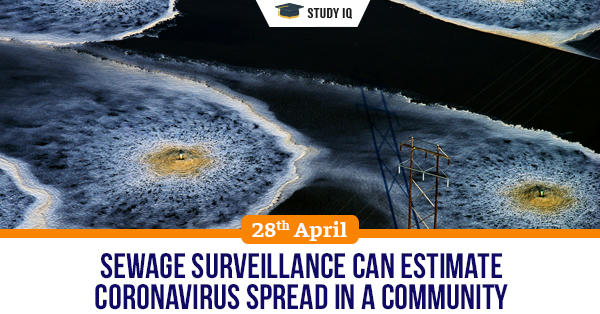 Sewage surveillance can estimate Coronavirus spread in a community
Date: 26 April 2020
Tags: Miscellaneous
Issue
Researchers in France have found that sewage surveillance can help in understanding the circulation of novel coronavirus (SARS-CoV-2) in the human population.
Background
Sampling sewage for viral particles is a time-tested method of environment surveillance and is routinely resorted to for understanding circulation of several viruses — wild and vaccine-derived polio, rota virus, Hepatitis E and typhoid — in the community.
Details
People infected with the virus have been found to shed the virus in their stools. And by studying sewage samples, it is possible to know the viral load in the community through modelling once data on how many viral particles are shed by individuals and how the viral particles get diluted in sewage are available.

In the case of novel coronavirus (COVID-19), sewage surveillance becomes particularly useful as a large percentage of infected population is either asymptomatic or show only mild symptoms.

Hence, there is a greatly likelihood that circulation of the virus in the community will be detected quite late, if at all. The circulation is likely to continue undetected till such time community testing is ramped up so that many get tested, or till such time people become severely ill, requiring hospitalisation.

The study has shown that the environmental surveillance is able to pick up a spike in virus concentration in sewage much before cases show up or overload and strain the healthcare system.

The other benefit is that sewage surveillance can be carried out independent of testing in humans and will be able to pick up early signs even when people in the community do not show symptoms.

The ability of sewage surveillance to decipher community spread even when people are asymptomatic is akin to antibody testing.

The virus concentration in wastewater has the same trend as cases and deaths. The concentration of virus in the wastewater samples increased a few days ahead of an increase in cases and deaths in the city.

Environmental surveillance is the key to know and understand community transmission. But one should be clear when to carry out sewage surveillance — when cases have come down once the outbreak has been controlled or before cases show up so as to predict an outbreak.

In the case of novel coronavirus, sewage surveillance is a good way to detect asymptomatic cases and those who exhibit mild symptoms, who might otherwise not be tested.

The best time and place to carry out sewage sampling in India for coronavirus is when testing of people has been sorted and in places where no cases have been reported.