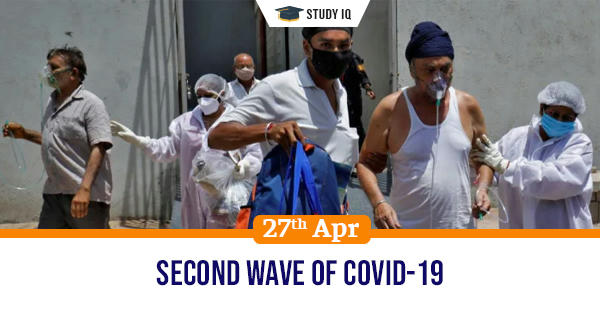 Second wave of Covid-19
Date: 27 April 2021
Tags: Miscellaneous
Issue
The second wave of Covid-19 has been more intense and devastating than the first wave just like the 1918-20 Spanish flu.
Background
The first wave has always been threatening but the impact of second wave is underestimated.
Details
Most of the cases under the second wave are spread by individuals who are asymptomatic and do not know they carry the virus.

While it may not affect them, some of the people being affected by them show intense and critical symptoms.

Asymptomatic people do not take precautions like isolating themselves or wearing masks, making them a most threatening among all.

There is also the increased presence of more infectious patients in the second wave which is more likely to cause faster infections.

The UK variant has shown a 50% higher transmission in population. The B1.671 variant of India has also more infection rate.

There is also no focus on creating containment zones this time. Without the micro-containment zones, containing the virus becomes a challenge.
Nature of growth
If Covid-19 preventive behaviours are not followed then super-spreader events such as closed parties and social gatherings will create more infections.

Contact tracing guidelines have not been followed rigorously this time when compared to the previous wave.

As cases have risen, testing time has also increased. This delay has allowed cases to surge without being monitored.

The oxygen requirement during this period has surged by over 13 percent in comparison to the peak during November.