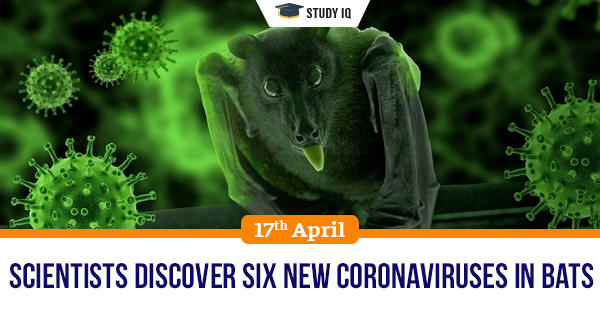 Scientists discover six new Coronaviruses in bats
Date: 17 April 2020
Tags: Miscellaneous
Issue
Researchers have discovered six new coronaviruses in bats in Myanmar -- the first time these viruses have been detected anywhere in the world.
Background
Researchers detected these new viruses while conducting biosurveillance of animals and people to better understand the circumstances for disease spillover as part of the PREDICT project.
Details
The newly discovered coronaviruses are not closely related to coronaviruses Severe Acute Respiratory Syndrome (SARS CoV-1), Middle East Respiratory Syndrome (MERS) or COVID-19.

The findings will help understand the diversity of coronaviruses in bats and inform global efforts to detect, prevent and respond to infectious diseases that may threaten public health, particularly in light of the ongoing COVID-19 pandemic.

Worldwide, humans are interacting with wildlife with increasing frequency, so the more we understand about these viruses in animals, what allows them to mutate and how they spread to other species, the better we can reduce their pandemic potential.

The team focused their research on sites in Myanmar where humans are more likely to come into close contact with local wildlife due to changes in land use and development.

Researchers tested and compared the samples to known coronaviruses and identified six new coronaviruses for the first time. The team also detected a coronavirus that had been found elsewhere in Southeast Asia, but never before in Myanmar.

These findings underscore the importance of surveillance for zoonotic diseases as they occur in wildlife. The results will guide future surveillance of bat populations to better detect potential viral threats to public health.
Coronavirus
Coronaviruses are a group of related viruses that cause diseases in mammals and birds. Coronaviruses have caused widespread disease in humans, including SARS CoV-1, MERS and most recently the global COVID-19 pandemic.