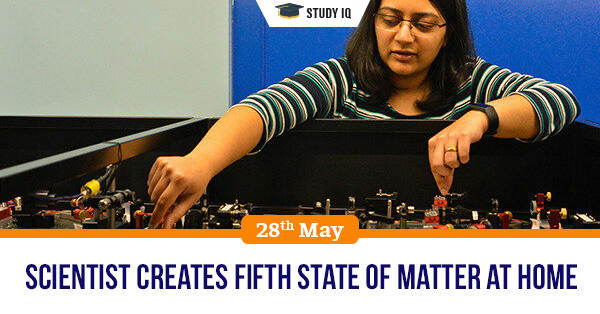 Scientist creates Fifth state of matter at home
Date: 28 May 2020
Tags: Miscellaneous
Issue
A physicist has created the fifth state of matter working from home using quantum technology.
Background
The research team believe the achievement could provide a blueprint for operating quantum technology in inaccessible environments such as space.
Details
A set-up consists of a cloud of hundreds of thousands of rubidium atoms cooled down to nanokelvin temperatures which is more than a billion times colder than freezing.

At this point the atoms take on a different property and behave all together as a single quantum object. This quantum object has special properties which can sense very low magnetic fields.

The research team uses atomic gases as magnetic sensors close to various objects including novel advanced materials, ion channels in cells, and the human brain.

Trapped cold quantum gases are controlled to create extremely accurate and precise sensors that are ideal for detecting and studying new materials, geometries and devices.

The research team are developing their sensors to be applied in many areas including electrical vehicle batteries, touch screens, solar cells and medical advancements such as brain imaging.
Fifth state of matter
In physics, a state of matter is one of the distinct forms in which matter can exist. Four states of matter are observable in everyday life: solid, liquid, gas, and plasma.

Many intermediate states are known to exist, such as liquid crystal, and some states only exist under extreme conditions, such as Bose–Einstein condensates, neutron-degenerate matter, and quark–gluon plasma.

Like a gas, plasma does not have definite shape or volume. Unlike gases, plasmas are electrically conductive, produce magnetic fields and electric currents, and respond strongly to electromagnetic forces.

Positively charged nuclei swim in a "sea" of freely-moving disassociated electrons, similar to the way such charges exist in conductive metal, where this electron "sea" allows matter in the plasma state to conduct electricity.

The plasma state is often misunderstood, and although not freely existing under normal conditions on Earth, it is quite commonly generated by either lightning, electric sparks, fluorescent lights, neon lights or in plasma televisions. The Sun's corona, some types of flame, and stars are all examples of illuminated matter in the plasma state.