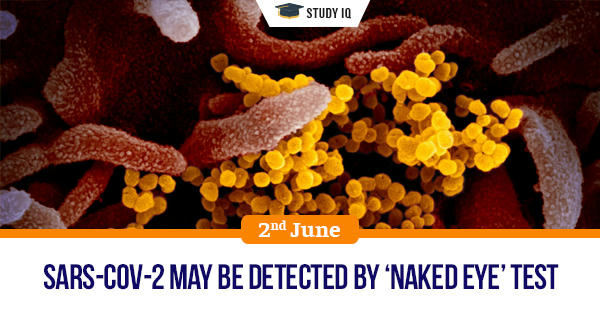 SARS-CoV-2 may be detected by 'naked eye' test
Date: 02 June 2020
Tags: Miscellaneous
Issue
Scientists have developed an experimental diagnostic test for COVID-19 that can visually detect the presence of SARS-CoV-2 in 10 minutes.
Background
The development comes as the number of cases of the virus continues to rise even as governments of many countries have started loosening restrictions on their residents.
Details
The test uses a highly specific molecule that attaches itself to gold nanoparticles, which is able to detect a specific protein, which is a part of the genetic sequence unique to the virus.

Through this "naked eye" test, a nasal swab or a saliva sample is taken from the patient and mixed with a simple laboratory test, which contains a liquid mixed with gold nanoparticles attached to a molecule that binds itself to SARS-CoV-2.

If the solution turns to a deep blue colour, it indicates that the virus is present. On the other hand, if the solution does not contain the virus in it, it does not change its colour and retains its purple hue.

Based on preliminary results, scientists believe this promising new test may detect RNA material from the virus as early as the first day of infection.

This method is faster than other tests such as the conventional RT-PCR test since it does not require the use of advanced laboratory techniques, which is the case with techniques commonly used to amplify DNA for analysis.

In the PCR test for instance, the RNA of the SARS-CoV-2 virus is first converted into DNA using a process called reverse transcription after which copies of the DNA are made and amplified.

RT-PCR tests can take up to nine hours to show results, however, the overall time, from the time that the samples are collected to the report being delivered can take over 24 hours.

The PCR test takes longer also because the swab is screened to decide the family of the virus, following which a second test is done to ascertain if the virus is the novel coronavirus.

Rapid tests are blood tests, which can be used to identify if the person has been exposed to a particular pathogen. The serological test screens the plasma for antibodies that the body develops against the virus. It takes less than 30 minutes.