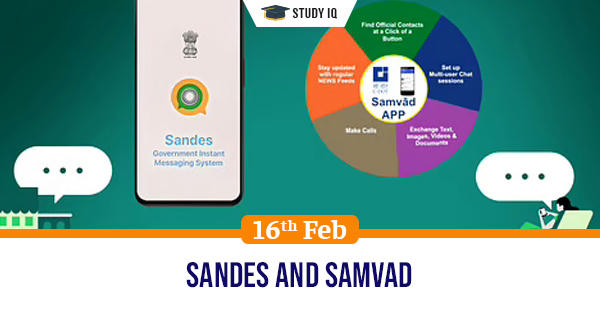 Sandes and Samvad
Date: 16 February 2021
Tags: Miscellaneous
Issue
After years of contemplation and controversies, the Indian government is finally testing two messaging platforms for its internal communication.
Background
The private messaging apps such as WhatsApp and other messengers are vulnerable to data leak, threatening government communication.
Details
Sandes and Samvad are two apps that have been built by different departments of the government and are currently being tested before a final rollout happens.

The idea is to have a secure instant messaging system for government use, and not rely on external, especially foreign owned apps such as WhatsApp, Signal, and so on.

Sandes is being developed by the National Informatics Centre, the technology infrastructure arm of the government under the Ministry of Electronics and Information Technology (MeitY).

Samvad, on the other hand, is not yet available to the public and is being developed by the Centre for Development of Telematics (C-DoT), under the Ministry of Communications.

Both the apps are being tested at present but there are no concrete plans regarding opening one for the public and one for official use, or keep both for use by officials.

Sandes allows encrypted messages, chat in a group or access to government teams. Officials can connect with verified government colleagues and officers securely.

The app contains features such as auto delete encrypted messages and mark them confidential. Data is protected by highest security protocol.

The app, unlike WhatsApp, does not show everyone using the app, but only government employees who are on Sandes.

Login is allowed through email or mobile number, and a one-time password is sent to whichever mode the user enters.