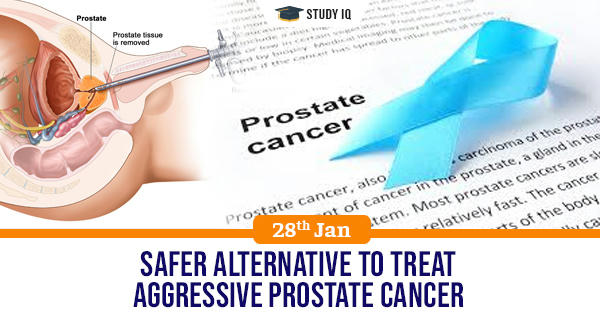 Safer alternative to treat aggressive prostate cancer
Date: 28 January 2020
Tags: Miscellaneous
Issue
A study shows why drugs used for treating prostate cancer which functions by blocking the activity of androgen receptor signalling or stopping the production of androgen or testosterone is actually counterproductive in the long term.
Background
The study sheds light into why the FDA-approved drugs against androgen signalling to treat prostate cancer can backfire after initial success.
Details
The research team has found a mechanism by which the cancer growth at aggressive stage can be safely reduced.

Several studies have already shown how stopping the production of androgen or androgen signalling through 'androgen deprivation therapy' at some point unintentionally helps the prostate cancer cells to become resistant towards this therapy and progress further to lethal forms.

The team found how administering anti-androgen drugs (enzalutamide and apalutamide) results in increase in the expression of a particular gene (SPINK1) which is generally associated with the aggressive type of prostate cancer.

There was also an increase in the levels of neuroendocrine markers which are only found in most aggressive form of prostate cancer. These results reflect a catastrophic situation similar to prostate cancer patients undergoing anti-androgen therapy.

The team also found the SPINK1 gene is also responsible for maintaining the characteristic features of neuroendocrine prostate cancer. The tumour becomes aggressive when the SPINK1 protein level increases.

In addition to androgen receptor, the researchers found that REST, which is a cofactor of androgen receptor, too, has repressive action on SPINK1 gene.

When the REST level increases there is a reduction in the SPINK1 protein level accompanied with a reduction in the oncogene properties of prostate cancer cells.

Treating prostate cancer cells showing elevated SPINK1 with a drug against Casein Kinase 1 show reduced cancer cell growth as well as aggressiveness.

The study also warns about the possible adverse effect of androgen-deprivation therapies, and the benefits must be considered against treatment, before putting the patients on this therapy.