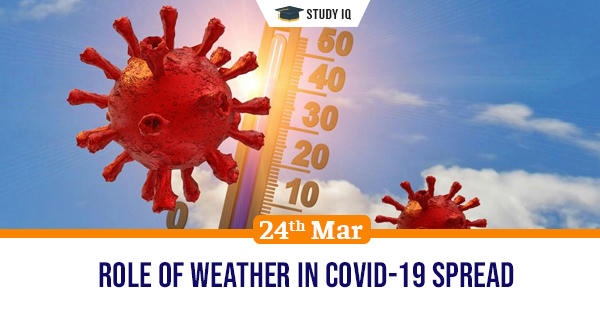 Role of weather in Covid-19 spread
Date: 24 March 2021
Tags: Miscellaneous
Issue
One full year has passed since the Covid-19 pandemic occurred but still there is no enough study to understand how SARS-CoV-2 behaves in changing weather.
Background
The Covid-19 virus has been a difficult one to study due to its ability to mutate. However, scientists have been making efforts to determine influence of weather on it.
Details
Ever since the Virus emerged from Wuhan, there was a belief that the viral infection could show some seasonality.

Based on the evidence of other influenza virus, medical experts assumed that the rate of infection would spike during the autumn and winter months.

Lower number of infections could emerge in temperate climates and during summer months. Variation in infection was based on geographical location, altitude and inter-annual variabilities.
Influence of weather
Scientists are able to say that immunology conditions of population is much more important than weather while determining infection trends. Seasonality plays a smaller and less important role.
Study
Research team studied three parameters such as ultraviolet radiation, air temperature and humidity.
UV radiation: UV radiation has a detrimental effect on survival of SARS-Cov-2 in laboratory conditions. Some studies indicated negative co-relation between UV radiation and infection rate.

Temperature and humidity: Environmental conditions where temperature is below 5 degrees and low humidity has positive effects on virus transmission.
Elderly and children with pre-existing conditions, allows them to be at higher risk of respiratory and cardiovascular diseases.

Air pollution: Covid-19 infection can increase if there is long exposure to polluted air, having high levels of PM2.5, ozone and nitrogen oxide.
This triggers immune system problems and grows chances of increasing co-morbidities and of requiring hospitalisation.
Conclusions
The Covid-19 transmission rate may have been influenced by interventions of government like lockdowns, travel restrictions and use of masks.

Meteorological conditions or air quality should not be a factor for government to relax and allow Covid-19 infections to spread.