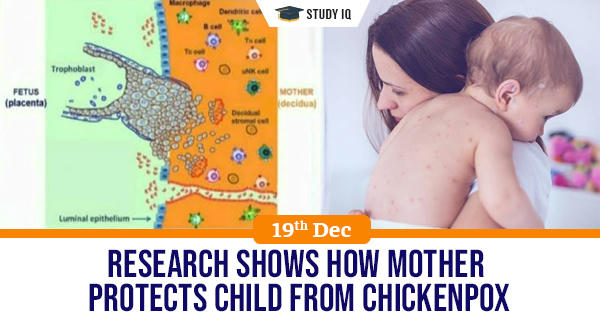 Research shows how mother protects child from chickenpox
Date: 19 December 2019
Tags: Miscellaneous
Issue
Mothers with a past history of chickenpox infection may transmit chickenpox viral DNA to their babies during pregnancy, thereby stimulating their immunity against this infection, according to a new study.
Background
The findings will revolutionise the present day understanding of how babies are protected against infections like chickenpox in childhood.
Details
This mother-to-child transfer of viral DNA may be responsible for the long-lasting protection against serious chickenpox infection seen during childhood.

The study states that chickenpox reactivation after surgical stress is known. Scientists have also demonstrated that the stress of space travel can induce subclinical reactivation of chickenpox in astronauts.

The present understanding is that mothers provide their babies protection against a variety of common infections by transferring readymade antibodies to them.

The protection to the baby lasts for 12 to 15 months. If the baby encounters the infection while it is partially protected by maternal antibodies, the illness is mild. The baby then develops their own, long-lasting immunity.

Babies develop more long-lasting active immunity with the transfer of chickenpox DNA from mothers, more than the short-term passive protection provided by the transfer of readymade antibodies.

In the absence of vaccines, chickenpox spreads easily in the population and repeated exposure to the virus acts like booster doses.

Vaccination, on the other hand, will reduce person to person spread of natural disease and the antibody titres are not boosted, and so there is little protection provided to the next generation.
Chickenpox
Chickenpox is primarily a disease of the temperate regions, where it occurs throughout the year, commonly in children between 1 and 14 years of age.

Chickenpox is also known as varicella, is a highly contagious disease caused by the initial infection with varicella zoster virus (VZV). The disease results in a characteristic skin rash that forms small, itchy blisters, which eventually scab over.