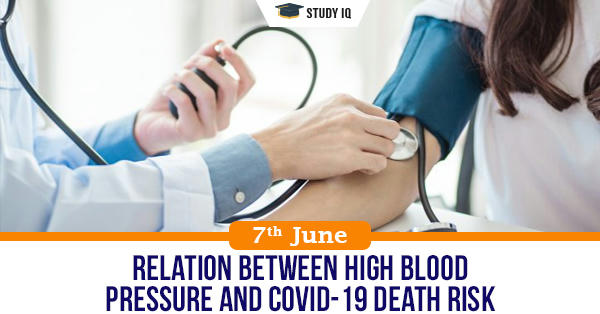 Relation between high blood pressure and COVID-19 death risk
Date: 07 June 2020
Tags: Miscellaneous
Issue
A new study has found that patients with higher blood pressure face twice as high a risk of dying from the COVID-19 compared to patients without high blood pressure.
Background
In addition, the study found that patients with high blood pressure who were not taking medication to control the condition were at even greater risk of dying from Covid-19.
Details
The aim of the study was to infer if the treatment of hypertension influences the mortality of patients diagnosed with Covid-19.

The researchers found that 34 of the 850 hypertensive Covid-19 patients (4 per cent) died, compared to 22 out of 2,027 patients without hypertension (1.1 per cent), a two-fold increased risk after adjustment for other factors that could affect the results, such as age, sex and other medical conditions.

The researchers pooled the data from the Chinese patients with data from nearly 2,300 patients in three other studies to investigate the death rates in patients being treated with drugs to control blood pressure levels.

Specifically, they compared between patients treated with a class of drugs called RAAS inhibitors, and those treated with other drugs.

They found a lower risk of death among the 183 patients treated with RAAS inhibitors than in 527 patients treated with other drugs. However, the researchers say this result should be treated with caution as the number of patients in this analysis was small and so it could be due to chance.

As this was a study that looked at data from observations in the hospital, the researchers say it is too early to make clinical recommendations based on these results, and that results from randomised controlled clinical trials are needed.

Hypertension affects blood circulation in the body, which also affects the circulation inside lungs, making it easier for the virus to penetrate. This is the reason that cases with high BP are more vulnerable.

The researchers also said in the study that BP patients should not discontinue their medicines, unless advised specifically by their physician.