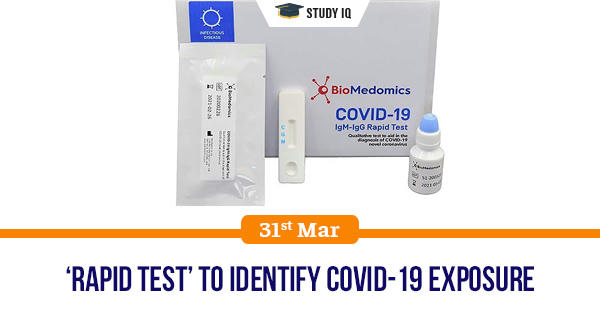 'Rapid test' to identify COVID-19 exposure
Date: 31 March 2020
Tags: Miscellaneous
Issue
To tackle suspicions of whether the novel coronavirus has spread into the community and if not prevent such a scenario, the Kerala government has announced 'rapid tests' that will ensure speedy results within half an hour.
Background
Over the last five days, Kerala's health department reported 93 positive cases of novel coronavirus, taking the total number of infected to 202 since February and heightening fears of community transmission of the virus in the state.
Details
The government has received approval of the Indian Council of Medical Research (ICMR) in this regard. The health department, in a statement released late Sunday, said the testing will be done using kits approved by ICMR and National Institute of Virology, Pune.

A rapid test is conducted to determine whether there has been any kind of recent viral infection in a person's body. When a pathogen enters a human body, specific antibodies are released as a response to the virus.

A rapid test can detect the presence of such antibodies in blood, serum or plasma samples quickly, indicating a viral infection. Rapid testing is conducted usually to check for community transmission of a virus during an epidemic.

Even though a rapid test can be extremely helpful to check for community transmission during a global pandemic such as this, it is not a confirmatory test for SARS-CoV-2 that causes the coronavirus infection.

Positive test indicates exposure to SARS-CoV-2. Negative test does not rule out Covid-19 infection. The person still has to be subjected to the polymerase chain reaction (PCR) test for confirmation of the SARS-CoV-2 virus.

A rapid test comes positive after 7-10 days of viral infection and remains positive for several weeks after that.

Those with a history of recent foreign travel, people who may have had contact with foreign returnees, health workers who maintain close contact with Covid-19 patients, residents of a region reporting higher-than-usual cases of respiratory illness and those who have recovered from such respiratory illnesses can undergo rapid tests.