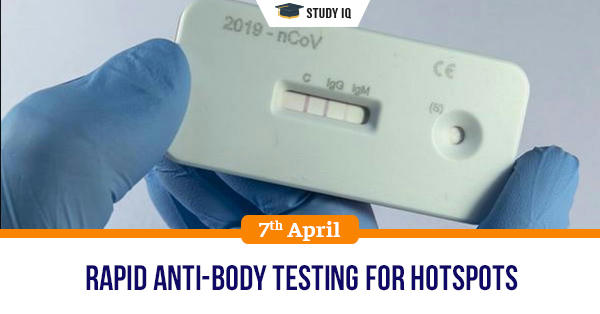 Rapid anti-body testing for hotspots
Date: 07 April 2020
Tags: Miscellaneous
Issue
The Indian Council of Medical Research (ICMR) said the rapid antibody based blood test for COVID-19 will be deployed in clusters and hot spots showing high incidence of confirmed cases.
Background
Highly affected areas need to be tested much more and that's why rapid antibody tests are suitable. While they are quick and inexpensive, the most important factor is that it doesn't take a specialist to perform the test.
Details
Testing for COVID-19 using real-time reverse transcription polymerase chain reaction (RT-PCR), a laboratory technique combining reverse transcription of RNA into DNA, is increasing and that India will be approaching full capacity soon.

National Task Force deliberated with experts for ascertaining use of these rapid test kits. They aim to start rapid antibody based blood test in clusters (with containment zones), and in large migration gatherings/evacuees centres.

The Health Ministry added that all States/UTs have been issued guidelines for implementing these tests and reports may be entered into the ICMR portal similar to results of real-time RT PCR tests for COVID-19.

RT-PCR test detects the virus and the antibody tests, which use blood, detect the body's response to the virus. A positive results tells that the body was exposed to the virus.

Experts point out that individual-level interpretation also needs to be done by a professional, who can take a comprehensive assessment. When combined with nucleic acid tests, the antibody tests can give a complete status.

Testing samples from multiple patients with a single PCR test, also known as pooled sampling, has been used previously in the early stages of the HIV epidemic when PCR costs were high.

They found that the use of a pooled testing strategy could reduce the time, cost, and resources required whilst identifying infected people in a population and estimating the infection rate.