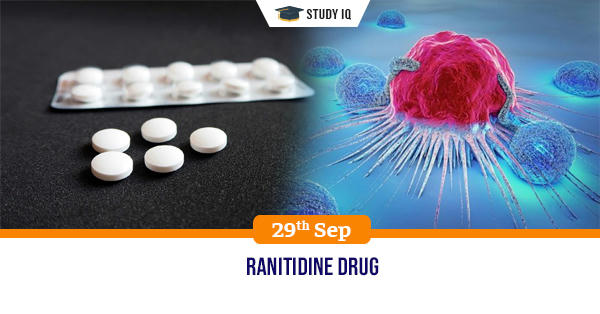 Ranitidine drug
Date: 29 September 2019
Tags: Miscellaneous
Issue
India's drug regulator this week began looking into concerns of potential cancer-causing substances contaminating popular acidity drug ranitidine.
Background
This decision has been taken after the US Food and Drug Administration flagged the issue to American patients.Some companies have suspended sales of the product worldwide, and some other countries have ordered recalls of the product.
Details
Ranitidine, popularly known through brand names like Aciloc, Zinetac, Rantac and Rantac-OD, R-Loc and Ranitin , is a prescription antacid used in the treatment of acid reflux and peptic ulcer diseases.

It is commonly used to relieve acid-related indigestion and heartburn by decreasing stomach acid production.

The US FDA found out that some ranitidine medicines contained "low levels" of a substance called N-nitrosodimethylamine (NDMA).

NDMA is an environmental contaminant found in water and foods and has been classified by the International Agency for Research on Cancer as probably carcinogenic to humans, which means it has the potential to cause cancer.

NDMA may cause harm in large amounts but the levels the NDMA finding in ranitidine from preliminary tests barely exceed amounts that we might expect to find in common foods.

While India and the US are still looking into the issue, regulators of around 15 countries are learnt to have called for recalls of ranitidine sold in their markets. These include Singapore, Canada, Italy, Denmark, Finland, Norway, Switzerland and Pakistan.
Drug regulator in India
The Central Drugs Standard Control Organisation(CDSCO)under Directorate General of Health Services,Ministry of Health & Family Welfare,Government of India is the National Regulatory Authority (NRA) of India.