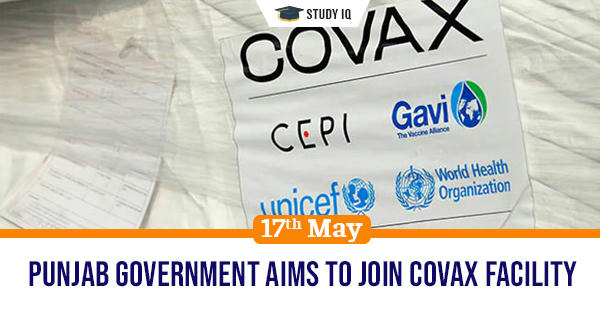 Punjab government aims to join Covax facility
Date: 17 May 2021
Tags: Miscellaneous
Issue
The Punjab government will be aiming to join the global Covax facility to obtain Covid-19 vaccines owing to shortage of the vaccine.
Background
Currently, the demand for vaccines has gone up. The rate of production has failed to keep up with demand, causing shortages.
Details
The Covax is a global platform led by World Health Organisation that aims at ensuring equitable and affordable distribution of vaccines to poor countries.

The Covax facility is currently working at national level and it is still not clear whether Punjab is eligible to join it.

India's vaccine shortage has resulted in people waiting in long queues to get their jab. It has to administer 1 crore doses per day if it plans to immunise every individual by end of the year.
Vaccine shortages
Currently only two vaccines have been in use. Several others, including Sputnik V are in the pipelines that will ease the availability. This process will take time to implement.

The big problem is that vaccines are not even available in the global market. Vaccine manufacturers are struggling to meet their previous commitments.

The Covax facility is also currently under stress as no donors or manufacturers are willing to donate to the platform.
The Covax facility
The Covax facility was set up with help from Global Alliance for Vaccines and Immunisation (GAVI) and Coalition for Epidemic Preparedness Innovations (CEPI).

Its main purpose was to speed up the development and production of vaccines. It will then be made available to poor and developing countries.

The donated vaccines are then allocated to its member countries in a manner that will enable them to vaccinate atleast their vulnerable sections.