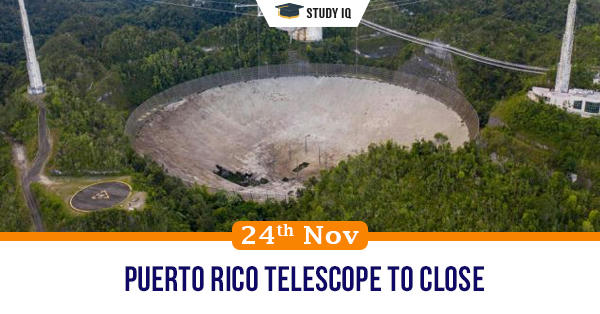 Puerto Rico telescope to close
Date: 24 November 2020
Tags: Miscellaneous
Issue
The National Science Foundation has announced that it will close the huge telescope at the renowned Arecibo Observatory in Puerto Rico.
Background
For more than 50 years, the Arecibo Observatory telescope was the world's largest single-aperture telescope, surpassed in July 2016 by the Five-hundred-meter Aperture Spherical Telescope (FAST) in China.
Details
NSF officials noted that even if crews were to repair all the damage, engineers found that the structure would still be unstable in the long term.

The telescope was built in the 1960s with money from the Defence Department amid a push to develop anti-ballistic missile defences.

In its 57 years of operation, it has undergone hurricanes, endless humidity and a recent string of strong earthquakes.

Scientists have conducted research using the telescope such as to track asteroids on a path to Earth, conduct research that led to a Nobel Prize and determine if a planet is potentially habitable.

There are other research centres as well that are used for upper atmospheric and ionospheric research, including analyzing cloud cover and precipitation data. Officials also aim to resume operations at the visitor centre.
Radio telescope
A radio telescope is a specialized antenna and radio receiver used to receive radio waves from astronomical radio sources in the sky.

Radio telescopes are the main observing instrument used in radio astronomy, which studies the radio frequency portion of the electromagnetic spectrum emitted by astronomical objects.

Optical telescopes are the main observing instrument used in traditional optical astronomy which studies the light wave portion of the spectrum coming from astronomical objects. Unlike optical telescopes, radio telescopes can be used in the daytime as well as at night.

Since astronomical radio sources such as planets, stars, nebulas and galaxies are very far away, the radio waves coming from them are extremely weak, so radio telescopes require very large antennas to collect enough radio energy to study them, and extremely sensitive receiving equipment.