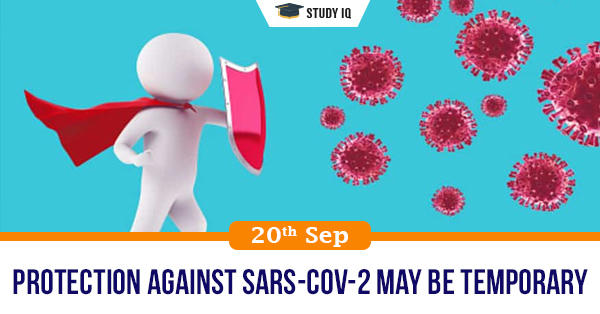 Protection against SARS-CoV-2 may be temporary
Date: 20 September 2020
Tags: Miscellaneous
Issue
While it is generally known that protective immunity against the four species of common cold coronaviruses does not last for more than year, a study has revealed that re-infection with the same seasonal coronavirus occurred frequently.
Background
This observation suggests that the duration of protection against SARS-CoV-2 re-infection, too, may not be for long, and re-infection, which is a common feature of all human coronaviruses, might take place for SARS-CoV-2, too.
Details
The four common cold coronaviruses belong to two different genera and use different receptors found on different host cells that allow the virus to gain entry and infect the cells.

The key question centres around the duration of protection following an infection by SARS-CoV-2 virus.

Insights gained from the longitudinal study suggest re-infection with the same seasonal coronavirus occurred frequently around one year after previous infection.

The short duration of protection against seasonal coronaviruses re-infection might be applicable for SARS-CoV-2 virus too.

The findings of the study suggest that "caution may be needed" when coming up with policies by relying on long-term immunity either through natural infection or vaccination aimed at attaining herd immunity.

Since re-infection can occur, herd immunity by natural infection is unlikely to eliminate SARS-CoV-2. The only safe and effective way to achieve herd immunity is through vaccination.