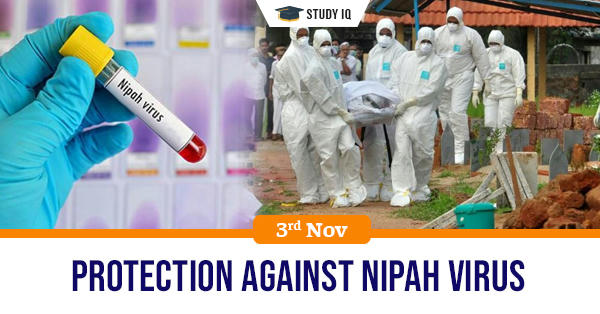 Protection against Nipah virus
Date: 03 November 2019
Tags: Miscellaneous
Issue
Kerala is preparing to launch an all-out campaign across the State, to create awareness of Nipah virus transmission.
Background
Kerala battled Nipah virus for two consecutive years. As the next breeding season of bats approaches there is a possibility of third encounter with the deadly virus.
Details
It is a known fact that fruit bats (Pteropus/flying fox) harbour Nipah virus and that they are common in the State.

The attempt is to build on that knowledge and take a public health approach, focussing on knowledge building, awareness creation and preparedness.

The challenge is to see if through a massive public awareness campaign, to prevent direct infection from animal to humans.

The No-Nipah or Zero Nipah campaign, expected to be launched next month, which will have a disease surveillance and knowledge-building component.

There will also be efforts to amp up the infection control protocols and guidelines and the general preparedness in hospitals.

There is an assumption that the infection could have crossed over from bats to humans via fruits. Spreading awareness regarding keeping away from fallen fruits or damaged fruits is being carried out.
Nipah Virus
Nipah virus is a zoonotic virus (it is transmitted from animals to humans) and can also be transmitted through contaminated food or directly between people.

In infected people, it causes a range of illnesses from asymptomatic (subclinical) infection to acute respiratory illness and fatal encephalitis.

The virus can also cause severe disease in animals such as pigs, resulting in significant economic losses for farmers.

The disease was first identified in 1998 during an outbreak in Malaysia while the virus was isolated in 1999. It is named after a village in Malaysia, Sungai Nipah.