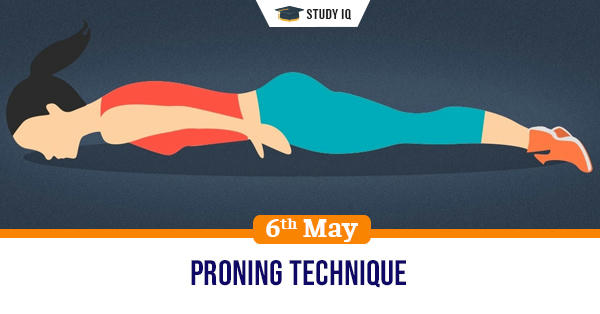 Proning technique
Date: 06 May 2021
Tags: Miscellaneous
Issue
Experts and doctors have advised patients of Covid-19 to practice proning exercise to increase oxygen levels in the body.
Background
The ravaging pandemic has caused mismatch between oxygen demand and supply. This technique can tackle oxygen level shortage.
Details
Proning is a position in which an individual is made to lie down on their abdomen to boost oxygen levels. It has been approved by medical practitioners.

Proning technique has been promoted in patients as a means to avoid additional oxygen support. There have been instances of improvement in several cases.
Position
Patients are made to lie on their belly using pillows as part of proning. They can also lie on right, left side or can sit in fowler position at 60-90 degree angle.
How it improves oxygen levels?
Proning has the capability to improve ventilation to the lungs. It will open the tiny alveoli units and keep respiratory functions running.
Materials needed
The major requirement is 4-5 pillows. One pillow has to be placed below the neck, 1-2 below the chest and 2 of them below the shins.

The patient should lie on belly, left and right side alternatively. One has to spend about 30 minutes in each position.
Avoiding proning
Pregnant women, patients with venous thrombosis, cardiac patients, individuals with unstable spine or pelvis should avoid this technique.

Proning should not be performed an hour after meals. The room being used by the patient must be well ventilated.