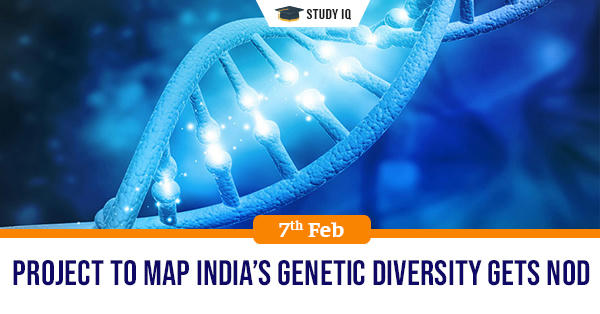 Project to map India's genetic diversity gets nod
Date: 07 February 2020
Tags: Miscellaneous
Issue
The government has cleared an ambitious gene-mapping project that is being described as the "first scratching of the surface of the vast genetic diversity of India".
Background
The project is said to be among the most significant of its kind in the world because of its scale and the diversity it would bring to genetic studies.
Details
The 'Genome India' project will involve 20 leading institutions including the Indian Institute of Science (IISc) in Bengaluru and a few IITs.

The first stage of the project will look at samples of 10,000 persons from all over the country to form a grid that will enable the development of a reference genome.
Significance
Mapping the diversity of India's genetic pool will lay the bedrock of personalised medicine and put it on the global map.

Considering the diversity of population in our country, and the disease burden of complex disorders, including diabetes, mental health, etc., it may be possible to take action before the onset of a disease through genome studies.

Mapping of India's genetic landscape is critical for next generation medicine, agriculture and for bio-diversity management.

The project may help to get a sharper understanding of diseases transmitted genetically down the line as well as some healthy attributes.