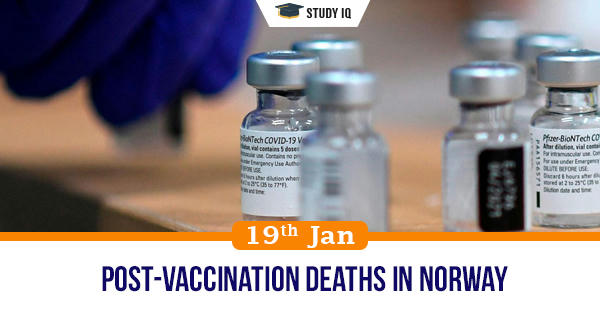 Post-vaccination deaths in Norway
Date: 19 January 2021
Tags: Miscellaneous
Issue
Twenty-nine people have died in Norway after being administered Pfizer's vaccine against the novel coronavirus.
Background
The vaccine manufactured by Pfizer-BioNTech was the only one being administered in Norway, and all deaths are linked to this vaccine.
Details
The suggestion by authorities is that the vaccines may be risky for very old or terminally ill people. This is so far the most cautious statements.

For those who have a very short remaining life span, the benefit of the vaccine may be marginal or irrelevant.

Norwegian authorities have adjusted their advice on who should be administered the vaccine by giving individual doctors discretion to make this decision.

A mass vaccination campaign involves a very large number of people and some adverse events, such as serious side effects and deaths are not totally unexpected.

It is critical is to determine whether the vaccine was responsible for the death. This can be complicated and can take time to establish.

The Norwegian Medicines Agency had communicated that when vaccinating the oldest and sickest, it is expected that deaths will occur in a time-related context with vaccination.

Side effects and fatalities have been reported in the United Kingdom and the United States as well. India too had adverse effects on about 0.2% of the beneficiaries.

The European Medicines Agency, which assesses and supervises medicinal products in the European Union, has said that it would examine safety reports submitted by all companies authorised to supply vaccines to the EU every month.