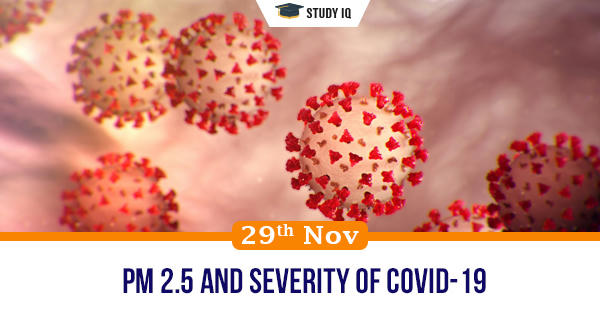 PM 2.5 and severity of Covid-19
Date: 29 November 2020
Tags: Miscellaneous
Issue
A study has found that a high concentration of fine particulate matter can amplify the Covid wave, causing an increasing number of positive cases.
Background
While Covid-19 is spread through moisture droplets, its severity increases if lung condition of patient is already under stress.
Details
The study establishes that when the air has a high concentration of PM.2.5, the severity of a viral infection increases.

It also brings to the table the preventive measures that the authorities should take to prevent air pollution to control an outbreak of severe illness or deaths due to Coronavirus.

Drop-in air temperature causes thermal inversion that favours the fine particulate matter to stay near the ground surface trapped under the dense cold air. Such winter inversion also increases condensation of moisture causing fog.

Studies conducted in Italy and France suggests the virus was present in the air even by the end of 2019 but the sharp increase in number was recorded only during the spring of 2020. This means there are other means of transmission of the virus.

In Switzerland during thermal inversion, the fine particulate matter in air shoots causing inflammation of the respiratory tract, cardiovascular tract, and pulmonary infections. In such circumstances, if a person gets infected with Covid-19, a serious progression of the disease was noticed.

PM 2.5 migrate from lungs to the bloodstream causing inflammation; they also damage the inner lining of arteries leading to stiffening of arteries, making it easier for Covid-19 to cause further damage to the respiratory system.
Temperature inversion
Temperature inversion is a deviation from the normal change of an atmospheric property with altitude. It almost always refers to an inversion of the thermal lapse rate.

Normally, air temperature decreases with an increase in altitude. During an inversion, warmer air is held above cooler air and the normal temperature profile with altitude is inverted.

An inversion traps air pollution, such as smog, close to the ground. An inversion can also suppress convection by acting as a "cap".