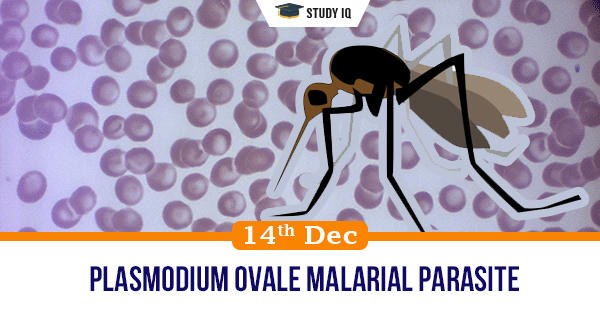 Plasmodium ovale malarial parasite
Date: 14 December 2020
Tags: Miscellaneous
Issue
Plasmodium ovale parasite has been identified in a jawan in Kerala. This type of Malaria is endemic to Sudan, where the jawan had allegedly contacted it.
Details
Malaria is caused by the bite of the female Anopheles mosquito, if the mosquito itself is infected with a malarial parasite.

There are five kinds of malarial parasites — Plasmodium falciparum, Plasmodium vivax (the commonest ones), Plasmodium malariae, Plasmodium ovale, and Plasmodium knowlesi.

Scientists say P ovale rarely causes severe illness and there is no need for panic because of the case detected in Kerala.

P ovale is very similar to P vivax, which is not a killer form. Symptoms include fever for 48 hours, headache and nausea, and the treatment modality is the same as it is for a person infected with P vivax.

It is termed ovale as about 20% of the parasitised cells are oval in shape. Distinguishing between P vivax and P ovale may be tricky.

P ovale malaria is endemic to tropical Western Africa. P ovale is relatively unusual outside of Africa and comprises less than 1% of the isolates.

It has also been detected in the Philippines, Indonesia, and Papua New Guinea, but is still relatively rare in these areas.
Malaria in India
In India, high-burden states are Odisha, Chhattisgarh, Jharkhand, Meghalaya, and Madhya Pradesh with 1.57 lakh cases.

The recent World Malaria Report 2020 said cases in India dropped from about 20 million in 2000 to about 5.6 million in 2019.