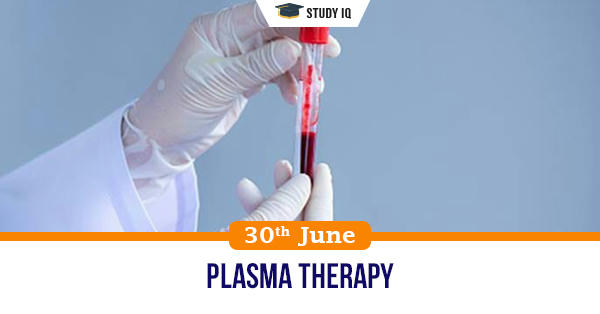 Plasma therapy
Date: 30 June 2020
Tags: Miscellaneous
Issue
The Delhi government will set up a plasma bank within the next two days for coronavirus patients at the Institute of Liver and Biliary Sciences (ILBS).
Background
The creation of the repository is a first-of-its-kind initiative in the entire country where recovered patients can donate their plasma.
Details
Like in blood banks, where blood is extracted and stored for those who might be in need, the idea is to extract and store plasma from people who have recovered from Covid-19 and give it to someone suffering from the disease.

The bank is being started keeping in mind the experiences of several people who had to run pillar to post to arrange plasma for their loved ones.

Once a person contracts the virus, the blood produces antibodies and certain cells 'remember' the antigen and produce antibodies when they come in contact with the same virus again. The plasma trial is examining if the plasma containing antibodies from recovered patients is beneficial to others as well.

Doctors have found so far that the therapy is not as effective on critical patients, but those with moderate symptoms appear to be responding well.

Convalescent Plasma (CP) is extracted from a Covid patient who has recovered, and Fresh Frozen Plasma (FFP) from a person who has no exposure to the particular disease — to serve as a control.

During the trial, it was found those who were given CP showed more improvement than those who were administered FFP.

Improvement was seen in oxygen saturation levels. Normal O2 saturation rate is 95%. CP was administered on patients whose O2 Saturation level was 85% and improvement of 6.61% seen within 48 hours and 9.92% seen in 7 days.

These results were better than those for FFP patients. The duration of stay in the hospital was also reduced in that given CP.

A healthy person between the age group of 18-60 years and with no comorbidities can be a donor. Consent must be taken, and the patient should have recovered at least three weeks before donating and tested negative for Covid-19 twice.