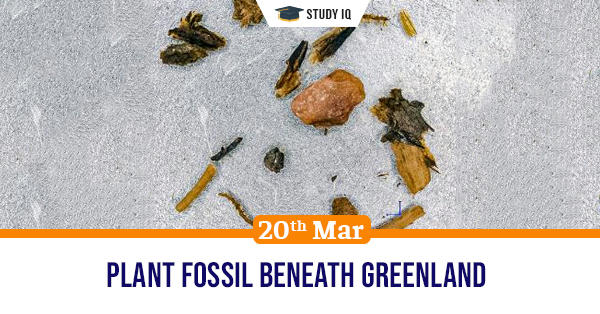 Plant fossil beneath Greenland
Date: 20 March 2021
Tags: Miscellaneous
Issue
Scientists have identified and obtained fossil remains of plants from below the ice sheets of Greenland.
Background
The scientists made the discovery while examining ice samples that were collected by US army during the peak of Cold War.
Details
The presence of plant fossils has indicated that there must have been an ice free period in Greenland more recently than assumed for existence of these fossils.

They assume that Greenland's ice sheet cover melted and formed again at least once in the last million years. Earlier they had thought that the ice cover was about 3 million years old.

Scientists collected the frozen soil samples for the first time from north-western Greenland in 1966. It gave them an insight into Earth's ancient climate.

Scientists calculated aluminium and beryllium isotopes and concluded that the plant fossils were between a few hundred thousand and 1 million years old.

The analysis of the soil further indicated that the Greenland ice sheet is very sensitive to even minor changes in climate.

Currently, ice sheets in Greenland are melting faster than they can be replaced by snowfall. At the current speed, they can disappear by 2100 even if rising temperature halts.

At the current rate of melting, cities such as London, New York, Dhaka, and Mumbai etc will soon be consumed by the seas and billions of people will be left homeless.