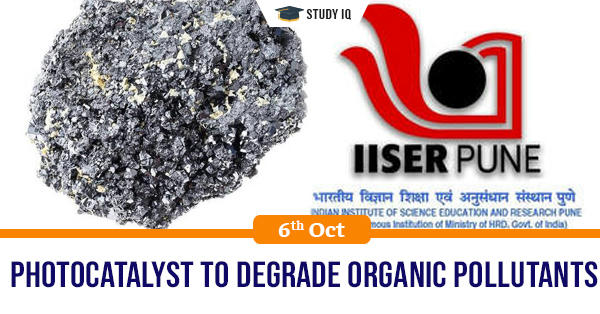 Photocatalyst to degrade organic pollutants
Date: 06 October 2019
Tags: Miscellaneous
Issue
Researchers at the Indian Institute of Science Education and Research (IISER) Pune have successfully converted the highly unstable perovskite into a highly stable photocatalyst capable of decomposing toxic organic pollutants commonly present in water.
Background
This is the first time perovskite-based composite material as a photocatalyst has been used for the degradation of toxic organic pollutants such as antibiotics, dyes etc. It will be a cost-effective method to produce clean water.
Details
The researchers tested the composite's photocatalytic property to degrade organic pollutants in water in three organic commonly seen pollutants — methyl orange, methyl red and nitorfurazone antibiotic.

The catalyst that becomes active when exposed to sunlight was synthesised by encapsulating nanocrystals of organic-inorganic perovskite inside a metal-organic framework (MOF).

When exposed to sunlight, the perovskite nanocrystals release electrons into water thus producing hydroxyl radicals. The hydroxyl radicals are highly active species that decomposes the organic pollutant.

The researchers utilised the hydrophobic nature of the MOF material to render greater chemical stability to perovskite nanocrystals that form inside the MOF cavities.

The composites remained stable in water even when at boiling temperature for 20 days.
Drawbacks
The rate of degradation of organic pollutants is not high compared with other standard materials.
Advantages
Compared with other materials, perovskite is inexpensive. It is also possible to scale up its production easily.

It is possible to increase the degradation rate by using different perovskite and MOF materials through further research.