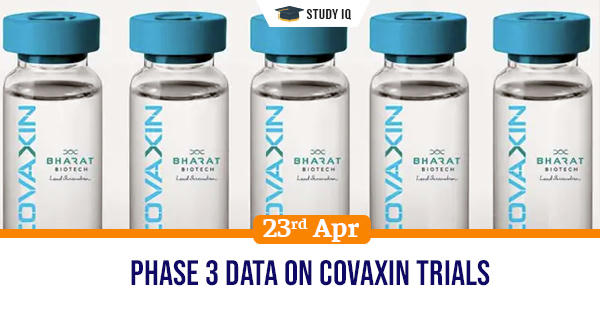 Phase 3 data on Covaxin trials
Date: 23 April 2021
Tags: Miscellaneous
Issue
Bharat Biotech has released the data from its phase 3 studies on the efficacy of its Covid-19 vaccine, Covaxin.
Background
The studies conducted on patients are very important in understanding the efficacy of vaccines and also its side-effects.
Details
The results have shown an interim clinical efficacy of 78 per cent and 100 per cent efficacy in tackling severe Covid-19 disease in phase 3 trials.

The vaccine was developed using Whole Virion Inactivated Vero Cell derived platform technology by making use of strains obtained from National Institute of Virology.

It is India's first indigenous vaccine against the Covid-19 disease. It makes use of inactive virus strains that are not capable of infecting but can trigger immune response.

The vaccine was approved under Emergency Use Authorisation through a clinical trial mode under phase 1 and phase 2.
Analysis of results
The results have shown a vaccine efficacy of 78 per cent against mild, moderate, and severe Covid-19 disease.

The efficacy of vaccine against severe disease was found to be 100 percent and it reduced the need for hospitalisation significantly.

There was efficacy of 70 percent against asymptomatic covid-19 infection that showed lower transmission by recipients of Covaxin.

The vaccine has shown neutralising capacity against the Brazil variant, UK variant, South Africa variant and the double mutant Indian strain.