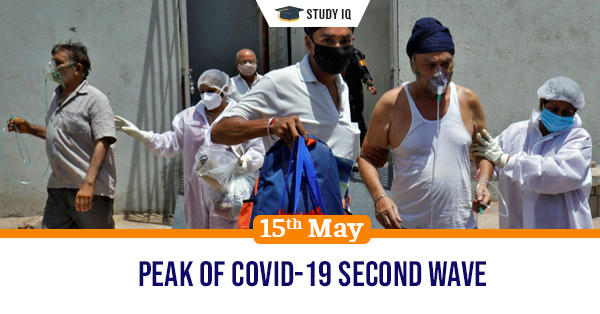 Peak of Covid-19 second wave
Date: 15 May 2021
Tags: Miscellaneous
Issue
The data and studies have indicated that the peak infections in the second wave have peaked or will peak in upcoming days.
Background
The Covid-19 infection occurs in waves with each one lasting several months. The cases start subsiding after reaching the zenith.
Details
The cases had reached a high of 4.14 lakh on 6th of May. Since then, the daily count of cases has been witnessing a steady fall.

Similar feature was observed when the cases had dropped for a few days after crossing the four lakh mark. It then returned to peak again.

The seven day average of cases has also seen fall from past couple of weeks. The seven day average peaked at 3.91 lakh and since then has been declining.
The decline
Maharashtra, one of the largest contributors with as much as 60 percent of cases, has shown declining trends. The cases have fallen below 40,000 after the peak of 68,000.

The decline was compensated by rise in cases in Karnataka and Kerala. Going by the trend, it appears unlikely that cases may sustain in these states.

Uttar Pradesh had the biggest potential of surpassing caseload of Maharashtra. But since couple of weeks, the cases have been below 30,000 mark.

The states such as Tamil Nadu, Andhra Pradesh and West Bengal has been showing ascendency of cases that may prove deadly.

The total active cases have also been waning slowly. This is because the people infecting and getting discharged are same in number.
Positive rate
The feature in the second wave was the high positivity rate. More number of people tested positive out of those tested.

India's positivity rate had been near the 5-6 percent mark during the first wave. This has now risen to about 20 percent during second wave.

Positivity rate is an indicator of disease prevalence in the population of a region. Larger the infection, higher the infection rate. It also could indicate faster transmission of virus infection among population.

Another reason for stability in positivity rate could be India's inability to increase testing capacity. The infrastructure has not been able to cope up with infection rate.

Although there are visible signs of slowdown, cases may not drop instantly. It may be weeks before the cases will be well below 1 lakh mark. The second wave will last longer than the first wave.