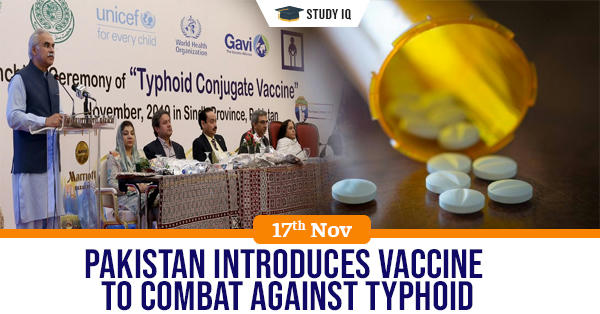 Pakistan introduces vaccine to combat against typhoid
Date: 17 November 2019
Tags: Miscellaneous
Issue
Pakistan became the first country in the world to introduce a new typhoid vaccine in an effort to combat a drug-resistant strain of the potentially fatal disease.
Background
Pakistani health officials have reported an ongoing outbreak of an extensively drug-resistant typhoid fever that began in the country in November 2016. The strain of Salmonella Typhi bacteria, which has become a so-called "superbug", has so far infected around 11,000 people in the country.
Details
Pakistan has become the first country in the world to introduce TCV (Typhoid conjugate Vaccine) into its routine immunisation programme through a campaign mode in Sindh.

The vaccine, approved by the World Health Organisation (WHO) in 2018, will initially be used during a two-week immunisation campaign.

The two-week campaign, launched with the support of Geneva-based Gavi vaccine alliance. GAVI vaccine alliance is backed by several global organisation, including the Bill & Melinda Gates Foundation, the WHO, the World Bank and the UNICEF.

TCV is a one-dose vaccine, injected intramuscularly, that is lower in cost and has higher efficacy. It is expected to provide long lasting immunity in adults, children and infants older than 9 months of age.
Typhoid
Typhoid is an infection caused by the bacterium Salmonella typhimurium (S. typhi). The bacterium lives in the intestines and bloodstream of humans.

It spreads between individuals by direct contact with the feces of an infected person. No animals carry this disease, so transmission is always human to human.
Symptoms include rashes, fever, muscle aches, diarrhea etc.