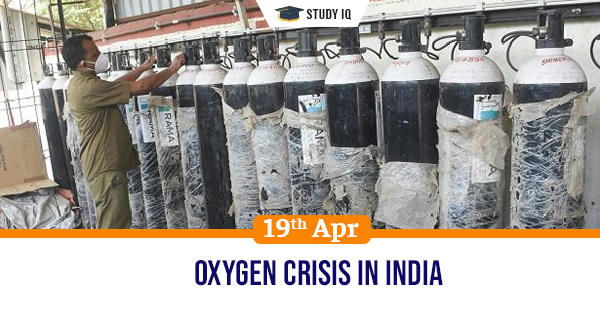 Oxygen crisis in India
Date: 19 April 2021
Tags: Miscellaneous
Issue
A large number of states have reported shortage of oxygen cylinders that is necessary for patients seriously ill due to Covid-19 infection.
Background
India is experiencing a second wave of Covid-19 with large number of people admitted to hospitals. This has also increased the demand for medical oxygen.
Details
The government of India is planning to import about 50,000 MT of medical oxygen in order to fulfil demands across the country.

Maharashtra has been the worst affected state as more than 10% of its overall patient numbers requiring oxygen support.

It is currently taking 50 tonnes of oxygen daily from Gujarat and Chhattisgarh. It will also receive 100 tonnes from Reliance's Jamnagar plant.

States like Gujarat and Madhya Pradesh are staring at shortages as cases have been rapidly escalating without showing signs of slowdown.

The centre has appointed an Empowered Group-2 to look after medical supplies during the pandemic.

They have been exclusively focusing on states of Maharashtra, MP, Gujarat, Rajasthan Karnataka, UP, Delhi, Chhattisgarh, Kerala, Tamil Nadu, Punjab and Haryana, where demand is expected to shoot up.
Use of oxygen
Oxygen is currently used in iron and steel industry, hospitals, pharmaceutical units and the glass industry. Most states have diverted oxygen for medical use.

Many smaller industries have diverted their resources in producing medical oxygen after the crisis in previous wave.
Hurdles
There is not enough cryogenic tankers to store and supply oxygen across the country. The time to transport has been increasing due to shortage of resources.

The increasing cost of transportation along with refilling of cylinders has been the main reason for the current shortage.
Way ahead
Setting up pressure swing absorption (PSA) plants in hospitals so that they can manufacture their own oxygen and make the hospitals self-reliant.

Constructing huge storage tanks to store supplies and can last about 10 days. This will avoid daily wait of cylinders.

Judicious use of oxygen in order to avoid wastages. This includes using oxygen for patients below 94% saturation levels.

Leakage and wastages due to improper management can be stopped. There should be more focus on fast transportation.