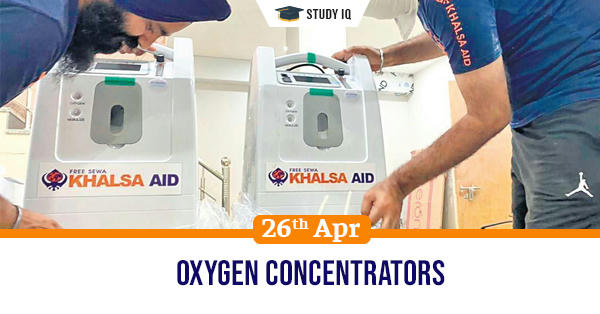 Oxygen concentrators
Date: 26 April 2021
Tags: Miscellaneous
Issue
Oxygen concentrator devices are in great demand from patients in home isolation and also from hospitals running out of medical oxygen.
Details
Oxygen concentrator is a medical device that concentrates breathable oxygen from atmosphere.

The device takes in air from the atmosphere, separates oxygen from remaining gases and transports it to patients for breathing.

A valve helps regulate supply of oxygen transported to the patients. The breathable oxygen is 90-95 percent pure and pressurised.

Even though the oxygen is only about 90-95 percent pure, it is good enough for patients with mild and moderate Covid-19 symptoms. It is not advisable to patients on ICU.

Concentrators can be used to serve two patients simultaneously but it is not advisable as it can cause cross infection.
Difference with oxygen cylinders
Oxygen concentrators can supply patients with 5 to 10 litres of oxygen per minute but critical patients may need 40 to 50 litres per minute. It can thus serve moderately ill individuals.

Concentrators are easily portable, need no cryogenic tankers and there is also no requirement of special temperature.

There is no need for timely filling of oxygen gas. Only thing it requires is continuous power source to draw air.

Oxygen concentrators cost between Rs 40,000 to 90,000 whereas cylinders cost about Rs 8,000 to 20,000. Concentrators are one-time investment and routine cost includes electricity and maintenance.