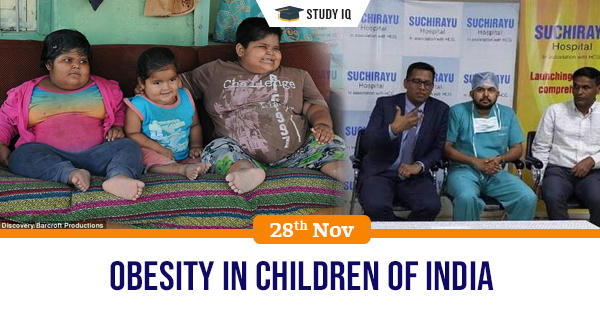 Obesity in children of India
Date: 28 November 2019
Tags: Miscellaneous
Issue
According to the World Obesity Federation, around 28 million children in India will be obese by the year 2030 and the country would rank second in the world in terms of the high number of obese people.
Background
Childhood obesity is a serious medical condition that affects children and adolescents. Children who are obese are above the normal weight for their age and height.
Details
Obesity has always been the root cause of many metabolic disorders like diabetes, hypertension, heart and liver problems, respiratory and joint pain issues.

The studies have revealed that obesity is also associated with infertility, and is considered the number one cause of cancer across the world.
Obesity
Obesity means having too much body fat. It is different from being overweight, which means weighing too much.

The weight may come from muscle, bone, fat, and/or body water. Both terms mean that a person's weight is greater than what's considered healthy for his or her height.

Obesity is most commonly caused by a combination of excessive food intake, lack of physical activity, and genetic susceptibility. A few cases are caused primarily by genes, endocrine disorders, medications, or mental disorder.

Obesity is mostly preventable through a combination of social changes and personal choices.

Changes to diet and exercising are the main treatments. Diet quality can be improved by reducing the consumption of energy-dense foods, such as those high in fat or sugars, and by increasing the intake of dietary fiber.